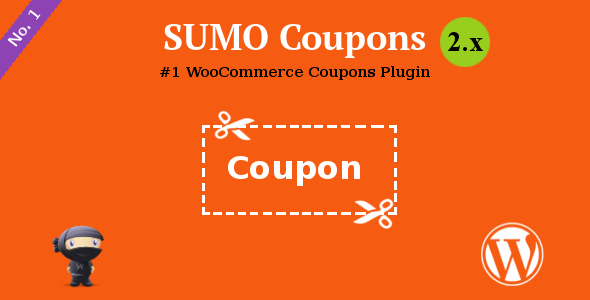 SUMO Coupons
SUMO Coupons is a Complete WooCommerce Loyalty Coupon System. Using this plugin you can offer your customers by providing free coupons for Account Sign Up, Product Purchases, Writing Reviews, Creating Blog Posts etc. The earned coupons can be used to make discounts in future purchases. SUMO Coupons supports Simple Products, Simple Subscription, Variable Products and Variable Subscription.
O V E R V I E W
SUMO Coupons is a Complete WooCommerce Coupon System. Reward your Customers using Coupons for Product Purchase, Writing Reviews, Sign up, Social Promotion (Facebook like, Twitter tweet, Google+ share and VK.com) on your site etc. SUMO Coupons supports the following 3 modes such as Credit Coupon Mode, Email Coupon Mode and Auto Apply Coupon Mode covering all possible Coupon related marketing features. It supports Fixed Discount and Percentage Discount value. SUMO Coupons supports simple, simple subscription, variable and variable subscription products.
Please note SUMO Coupons v2.x is not compatible with v1.x
W H Y   Y O U   S H O U L D  B U Y   ?


Please check the documentation as we have lots of information there. The documentation file can be found inside the documentation folder which you will find when you unzip the downloaded zip file.
For support, feature request or any help, please register and open a support ticket on our site.
Version 3.2 on 16 April 2017
New: WooCommerce 3.0 compatibility
New: New Credit Coupon and Email Coupon Mode added
New: Added Shortcode tab to display the email shortcodes

Version 3.1 on 27 March 2017
Fix : Price display format compatibility with WooCommerce settings
Fix : My Coupon heading display issue on My Account Page and Cart Page
Fix : Bulk update Settings issue
Fix : Time limit for earning next social coupon problem
Fix : Plugin Tabs getting hidden with PHP 7.1

Version 3.0 on 14 March 2017
Tweak: Code Improvements
Tweak: "Signup Coupon After first Purchase" feature disabled for Auto Apply Coupon Mode
Fix: URL coupons and Social coupons 
Fix: Product Purchase Coupons display problem in Credit Coupon Mode

Version 2.9 on 09 March 2017
Fix: Signup Coupons not applied in cart on Auto Apply Mode
Tweak: Code Improvements

Version 2.8 on 22 February 2017
New: Troubleshoot option added to enqueue or not to enqueue jQuery UI Library
Fix: 'My Coupons' label not displayed in Cart Page when user has single coupon
Fix: Product Purchase Coupons display issue

Version 2.7 on 17 January 2017
Fix: Coupon Expiry Date problem

Version 2.6 on 09 January 2017
Tweak: Hiding My Coupons Title in Cart/My Account Page when there are no coupons
Fix: Payment Gateway problem in Auto Apply Mode
Fix: Broken Image problem when using PayPal Payment Gateway

Version 2.5 on 05 December 2016
New : Option for Coupons earned from SUMO Coupon not to be used on Products with Sale Price

Version 2.4 on 13 November 2016
Fix: Display My Coupons Label only when user has valid coupons
Fix: Earned Coupons displaying in My Account in Email Coupon Mode
Fix: Coupons can be used only the person who earned the coupon

Version 2.3 on 07 November 2016
New: Option added to Award Coupons after First Purchase
New: Option added to restrict the First Product Purchase Coupons when User Registering in the Site
Fix: Problem in auto apply mode for account signup
Fix: On applying the coupon in cart page when the cart total becomes zero a message is displayed which is removed

Version 2.2 on 25 August 2016
Tweak: Responsiveness of Earned Coupons display in MyAccount Page and Cart Page
Tweak: VK Like social button not displaying properly
Tweak: Hiding My Coupons Label in Cart and My Account Page when user doesn't have any valid Coupons
Tweak: Social Icons Alignment in Single Product Page
Fix: Product Purchase messages in Cart page for Credit Coupon mode not displaying Properly
Fix: Hiding the Unwanted Tooltip displayed for Facebook Share Button
Fix: Coupon Being generated wrongly as percentage based coupon for Social Actions

Version 2.1 on 22 August 2016
Tweak: All Categories filter working tweaked
Fix: Hiding Social Icons in Product Page when Social Coupon is disabled
Fix: Hiding Unwanted Coupon message in Cart Page
Fix: Displaying Coupons earned through Store Credit Mode in Cart and My Account Page
Fix: Email not received for URL Coupons when Coupon Mode is set as Email Coupon Mode
Fix: Emails sent through SUMO Coupons is landing in Spam
Fix: Product Purchase Coupons tax issues

Version 2.0 on 16 August 2016
New: Credit Coupon Mode, Email Coupon Mode & Auto Apply Coupon Mode
New: % Discount Type Coupon Supported

Version 1.1 on 20 May 2016
Fix: Plugin menu name

Version 1.0 on 08 May 2016
Initial Release