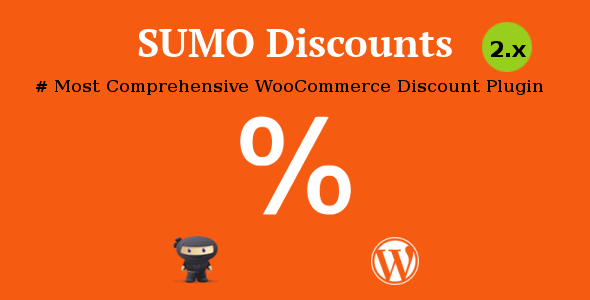 SUMO Discounts
SUMO Discounts is a WooCommerce Extension Plugin. Using SUMO Discounts plugin you can provide discounts to your users in multiple ways.
O V E R V I E W
SUMO Discounts & Advanced Pricing is a Complete WooCommerce Discounts and Advanced Pricing System. This Plugin can be used to provide Quantity Discounts, Special Offer Discounts, Cart Discounts, User Role Discounts, Membership Discounts (requires SUMO Memberships Plugin), Reward Points Member Level Discounts (requires SUMO Reward Points Plugin) etc.
W H Y   Y O U   S H O U L D   B U Y ?
Please check the documentation as we have lots of information there. The documentation file can be found inside the documentation folder which you will find when you unzip the downloaded zip file.
For support, feature request or any help, please register and open a support ticket on our site.
Version 2.9 on 13 April 2017
New: WooCommerce 3.0 compatibility
Tweak: PHP 7.1 compatibility

Version 2.8 on 14 February 2017
New: Discounts based on Current Available Points or Total Earned Points in SUMO Reward Points
New: API added for Identifying Price Change in cart which is due to SUMO Discounts Plugin

Version 2.7 on 17 January 2017
New: Purchase History filter can be restricted to specific Time Period

Version 2.6 on 08 January 2017
New: Discounts can be restricted to Specific Tag associated Products
New: Quantity Pricing Table for Quantity Discounts
Fix: Same price displayed in range for Variable Products

Version 2.5 on 22 November 2016
Tweak: Code improvements for performance

Version 2.4 on 07 November 2016
New: Special Offer Discounts can be applied on different Products/Categories
Tweak: Prevent discount when Product price becomes 0 through special offer discounts

Version 2.3 on 18 October 2016
Fix: WooCommerce Activated check improvement

Version 2.2 on 14 October 2016
 Fix: Warning message in Single Product Page, Shop Page and  Category Page

Version 2.1 on 24 September 2016
 Fix: Cart Discount amount display problem in cart page for other language sites
 Fix: On Sale Tag not displaying for variable products in custom pages

Version 2.0 on 11 September 2016
New: Repeat Discount added in Quantity Pricing
New: Category/Product Discount(Side Wide Discount)
New: On Sale tag displayed on Products for Site Wide Discounts

Version 1.6 on 04 September 2016
Fix : Tax update problem for discounted cart total

Version 1.5 on 29 August 2016
New: Compatible with SUMO Memberships 

Version 1.4 on 22 August 2016
Fix: Site Wide discounts problem in variable products when tax is enabled
Fix: Default message not set for Cart Total Discounts

Version 1.3 on 08 August 2016
Tweak: Calculating Tax based Discounted Price
Fix: Discount problem for Variable Products
Fix: Day Filter problem when the site language is not English

Version 1.2 on 03 August 2016
New: Support for Unlimited( *) Value in Min and Max fields for Quantity Discounts, Cart Total Discounts and SUMO Reward Points Discounts

Version 1.1 on 24 July 2016
Fix: Error Displayed in Cart Page when deleting the membership plan for the particular user
Fix: Error Displayed in Membership tab, when creating more than one membership plan
Fix: Unable to Save Cart Total Message
Fix: Value saved in Cart Total Tab even though the value is given as 0
Fix: Date and Days filters doesn't work in Site Wide discounts
Fix: Problem in Apply discount for Sale Product option in Site Wide discounts
Fix: Problem in Discount Value saving in Site Wide Discounts
Tweak: Default Value for Days is Enabled in Site Wide Discounts
Tweak: Listing Membership Plan in ascending order for SUMO Memberships Discounts Tab
Tweak: SUMO Memberships Discounts label changed
Tweak: SUMO Reward Points Discounts label changed

Version 1.0 on 21 July 2016
- Initial Release