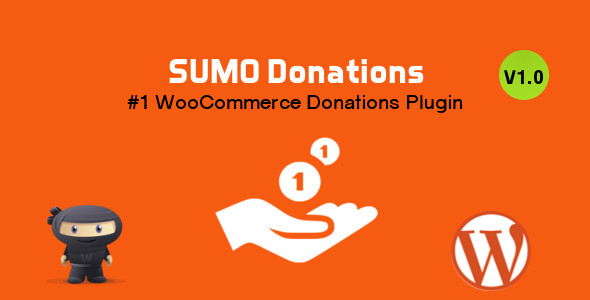 SUMO Donations
SUMO Donations is a WooCommerce Extension Plugin.
O V E R V I E W
SUMO Donations is a Complete WooCommerce Donation System. Using this Plugin you can provide options for the users to make donations in your site. It supports Recurring Donations (requires SUMO Subscriptions). Donations can be made in the Single Product Page, Cart Page, Checkout Page, Donation Form displayed in any Page/Post using Shortcode and On Exit Fly Box in Cart Page and Checkout Page. Donation can be Automatic or Manual. You can also Force Donations (where without making the Donation the user can't complete the checkout (purchase).
Please note that the users can purchase Products in the Shop like they can always do and in addition can make a Donation as well.
W H Y   Y O U   S H O U L D   B U Y   ?
Please check the documentation as we have lots of information there. The documentation file can be found inside the documentation folder which you will find when you unzip the downloaded zip file.
For support, feature request or any help, please register and open a support ticket on our site.
Version 1.5 on 14 April 2017
New: WooCommerce 3.0 compatibility

Version 1.4 on 23 June 2016
- New: Compatible with SUMO Subscriptions (Recurring Donations)
- New: Documentation updated
- Fix: Conflict in Cart Page if same product is set for Manual Donation and Automatic Donation
- Fix: Entry added in Donation Table with 0 Donation amount for Automatic Donation

Version 1.3 on 24 March 2016
- New: Force Donation Option for Manual and Automatic Donations
- New: Automatic Donation Value Calculation Type(Based on % of Cart Total or Fixed Value)
- New: Document Updated
- Tweak: Apply Donation Value Added to Existing Cart Total/Subtracted from Existing Cart Total

Version 1.2 on 05 August 2015
- New: Automatic Donation 
- Fix: Cart Price Updation Problem Fixed

Version 1.1 on 02 August 2015
- Fix: Show Donation Amount in Cart Widget
- Tweak: Changed Error Message for WooCommerce Dependency

Version 1.0 on 30 July 2015
- Initial Release