Description
OVERVIEW
WooCommerce Recover Abandoned Cart is a WooCommerce extension Plugin which helps in Recovering the Abandoned Carts thus increasing the sales. WooCommerce Recover Abandoned Cart works both for Members and Guests.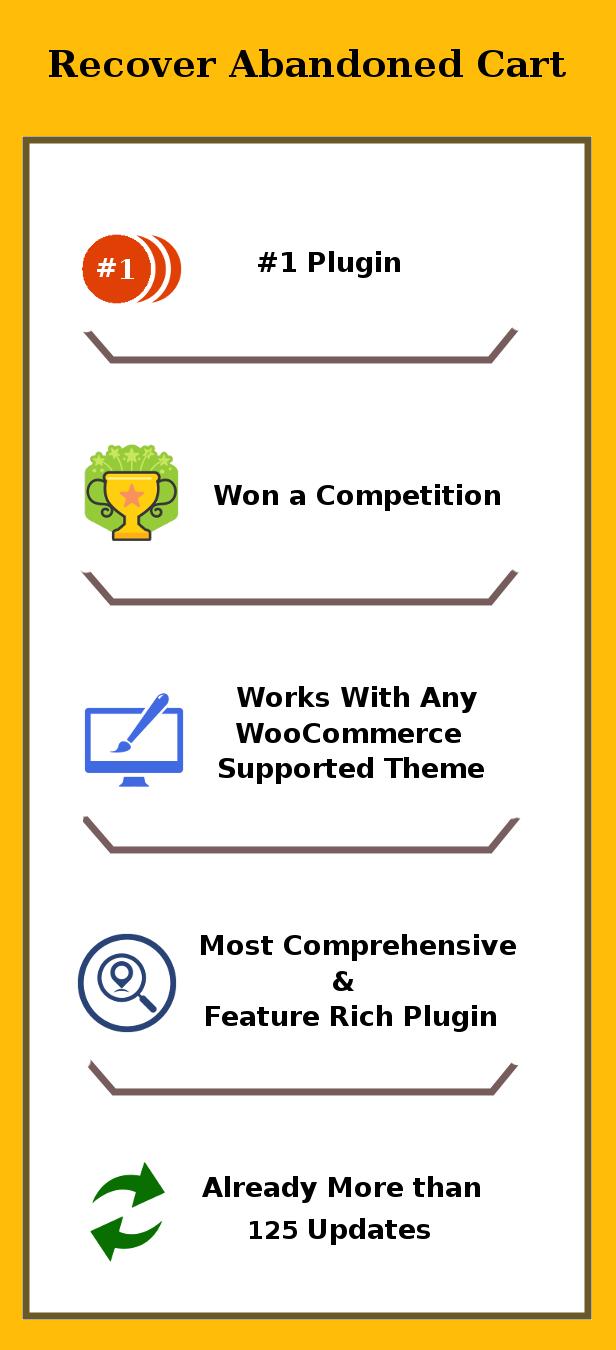 Automated Email and Manual Email
Automated Coupon Code in Email
Multiple Email Templates
WP Cron
Server Cron
Capture Cart by User Role, User Name, User Id
Unsubscribe Option in Email
Test Mail
Abandoned Cart Time can be set
Automatically delete old Captured Carts
Restrict Abandoned Cart Emails to specific Email Id(s)/User Roles/Email Provider(s)
Email through WooCommerce Template/HTML Template
Email Templates can be disabled
Email Templates can be duplicated
Works with Simple and Variable Products
Highly Customizable Email Templates
Separate Table for Captured Carts
Delete and Restore Captured Carts
Captured Carts Filtering based on Subscribed Users/Unsubscribed Users
Recovered Order Count displayed for Email Template
Previous Failed Orders can be marked as Abandoned
Abandoned Cart Email with Purchase link
Product Info Table in Emails can be Customized
Manual Cart Recovery
Separate Table for Recovered Orders
Delete New Carts/Abandoned carts of the User when Order is Recovered
Cart List Capturing behavior can be Customized
Capture Cart Link click
Email Log
Option to manually Subscribe for Abandoned Cart Emails
Captured Carts can be Exported as CSV
Filter Hooks for CSV Export
Extensive List of Shortcodes
Option to hide certain columns from Product Table in Abandoned Cart Email
String Translation and WooCommerce Multilingual
RTL Support
Translation Ready
Highly Customizable
And More
Please check the documentation as we have lots of information there. The documentation file can be found inside the documentation folder which you will find when you unzip the downloaded zip file.
For support, feature request or any help, please register and open a support ticket on our site.
Version 16.6 on 02 June 2017
New: Compatible with WooCommerce Product Add-ons
Tweak: Improved compatibility with Aleia Currency Switcher
Version 16.5 on 19 May 2017
New: Option to set image in place of {rac.cartlink} shortcode
New: Send Email display option
Tweak: Improvement to set the cron
Fix: Error in Cart details table
Version 16.4 on 10 May 2017
New: Option added to prevent RAC emails being sent to user for the cart list if an already purchased product is one of the product in the captured list
Tweak: Code Optimized
Tweak: PO file updated
Fix: Empty cart list tab page
Version 16.3 on 03 May 2017
Tweak: Improvements in the settings labels
Tweak: Updated PO Files
Fix: Empty Email problem when WPML is used
Version 16.2 on 25 April 2017
New: Multi Currency support for WPML Multi Currency, Aelia Currency Switcher, WooCommerce Currency Switcher
New: Include/Exclude options added for Cart List capturing and Email sending
New: Warning Message added for improving usability
Tweak: Order Total can be set as 0 in Segmentation filter
Tweak: PO files Updated
Fix: Next Cron Job Time display issue in Troubleshoot
Version 16.1 on 19 April 2017
New: New cart capture based on selected status for captured cart
New: Bulk Update option to Stop/Start mailing
Tweak: Enqueue script improvements
Fix: Template not updated while sending manual emails
Version 16.0 on 11 April 2017
New: WooCommerce 3.0 compatibility
Fix: Fatal Error in Cart List tab
Fix: Undefined Offset Problem
Fix: Test Email sending issue
Fix: Restriction not applied properly when Don't capture any New Cart option is selected
Fix: Script error when Clear Reports button is clicked
Version 15.9 on 05 April 2017
New: Added shortcode to display Product Name in Email Subject
New: Bulk Update option for start emailing and stop emailing
Tweak: PHP 7.1 Compatibility
Tweak: Validation for creating tables
Tweak: Updated Po Files
Version 15.8 on 14 March 2017
New: Option to restrict sending of emails based on email id providers
New: Added Product and Category filter in segmentation
New: Filter for CSV Export
Tweak: Validation for empty values in Plugin Settings
Tweak: Updated po and mo files
Fix: Undefined offset problem
Version 15.7 on 02 March 2017
New: Code Improvements and Performance Optimization
Version 15.6 on 16 February 2017
Tweak: Code Improvements
Version 15.5 on 07 February 2017
New: Option to give Free Shipping for Coupon
Tweak: Code Improvements
Version 15.4 on 02 February 2017
New: Option to Restrict Entry in Cart List if the User already has an active Abandoned Cart
New: Added Filters for Export CSV File
Tweak: Updated po and mo files
Version 15.3 on 17 January 2017
New: Subscribed and Unsubscribed sections added in Cart List tab
New: Confirmation dialogue box added when Mark as Recover button is clicked
Tweak: Cart Total is updated after Shipping and tax Calculation for Guest
Fix: Fatal Error when WooCommerce is not Active
Version 15.2 on 08 January 2017
New: Display Product SKU in Cart List and Product Info Email
New: Option to Update Cart List Status In Troubleshoot tab
Tweak: Code Improved to avoid fatal error
Tweak: Saving additional time details during cart link click
Fix: Recovered Order Id display problem when Order is Recovered
Version 15.1 on 19 December 2016
Fix: Default value setting problem
Fix: Unsubscription message display problem
Fix: Error log problem
Fix: Update the cart in the list when the cart is updated by the user
Version 15.0 on 05 December 2016
New: Graphical Reports
New: Email Sender option for WooCommerce Template Type
New: Troubleshoot option added for including MIME Version 1.0 and Reply-To parameters
New: Option to send mails based on previous mail sent Time
New: Added po & mo files for Italian language
Tweak: Admin notification based on Order Status of the Recovered Order
Tweak: Updated po files
Tweak: Updated Translation strings
Tweak: Code Updated
Fix: Page break issue when products or users are deleted
Fix: Order considered as Recovered if the Order was cancelled in the Payment Page
Fix: Recovered Orders count updated when Cart is Recovered without clicking the Cart Link in Email
Fix: Display issue in Shortcodes tab
Fix: Empty cart issue when member clicks link as guest
Fix: Clear Cart Content option not working for Member
Version 14.6 on 10 November 2016
New: Pagination for Recovered Orders tab
New: Sorting for Mail Logs and Recovered Orders based on Oldest/Newest display first option
Tweak: Code improvements
Version 14.5.1 on 07 November 2016
Fix: Undefined function problem
Version 14.5 on 02 November 2016
New: Added Segmentation for Email Templates
Tweak: PO files Updated
Version 14.4 on 25 October 2016
New: Option to set which cron will be used
Tweak: Improvement in script loading
Version 14.3 on 18 October 2016
New: Added Warning Message when cron is disabled
Version 14.2 on 14 October 2016
Fix: Display issue in user name search field of Custom Restrict Settings when using WooCommerce Version 2.2.11 and below
Version 14.1 on 04 October 2016
New: Product Info Alignment section to customize position of columns in Product Info Table
New: Ascending/Descending Order to display Cart List table
New: Separate options to Show/Hide Shipping, Tax in Abandoned Cart Emails
Tweak: Product Info Table alignment when columns are hidden
Tweak: Updated PO Files
Fix: Error occurred in Mail Log when the template used for sending the email is deleted
Fix: Shipping Cost displayed without Tax in Emails
Fix: Restore Cart from Cart Link when Cart is already Recovered
Fix: Blank space added for Image in Emails when using HTML Template
Version 14.0 on 23 September 2016
New: Shipping Cost in Abandon Cart Email
New: Option to change Cart to Recovered Status manually
Tweak: Compatibility with WooCommerce Version 2.3 and below for displaying price in emails
Tweak: Dummy shortcode value in subject of test email templates
Tweak: Cart Total display in Cart List Including tax and Shipping Cost
Tweak: Display Dummy Tax and Shipping cost in Test Email and template Preview
Tweak: Updated po and mo files
Version 13.9 on 16 September 2016
New: URL redirection to specific language site based on Cart Abandoning language
Tweak: Optimized code to reduce Ajax loading time for Guest Cart capturing
Fix: Problems when using the plugin with WooCommerce 2.4.x and below
Fix: For Guests, Cart Link in Abandon Cart Email redirects to Empty Cart when using multiple email templates
Version 13.8 on 01 September 2016
New: Option to "Replace" or "Append" WooCommerce Footer Text with Unsubscription Link Text
Tweak: Dummy Content for Shortcode in Email Template Preview and Test Emails
Fix: Variation name displayed incorrectly when Global Variations are used for the Product
Fix: Empty Cart Item created for Guests when custom checkout form is used
Fix: Problem in capturing Guest Firstname and Lastname
Version 13.7 on 19 August 2016
New: Option to Show/Hide Variation name of Variable Products in Abandoned Cart Emails
Tweak: Updated Complete Translation po files for French Language
Fix: Variation name duplicated in Abandon Cart Mails if the Cart Item is a Variable Subscription product
Fix: IP Capturing Issue when using Cloud Proxy
Version 13.6 on 05 August 2016
Tweak: Capturing Guest Cart as External JS File
Fix: Conflict with WooCommerce Color Picker
Version 13.5 on 24 July 2016
New: Option to Customize Date and Time format
Fix: Proxy Server Cart Capture Issue for Guest
Tweak: Fetch DB Results Order by IDs
Version 13.4 on 18 July 2016
– Fix: Duplicate emails received when more than one mail template triggered at the same time
– New: Updated documentation
Version 13.3 on 20 June 2016
– New: Shortcode for displaying Date and Time of captured Cart in Email Template
– Tweak: Changed Variable Product Name Displaying Style In Product Info Table
Version 13.2 on 13 June 2016
– Fix: Cart Link not displaying all variations for Guest
– New: Documentation Updated
Version 13.1 on 03 June 2016
– New: Option to Display Product Price Including Tax in Abandoned Cart Emails
Version 13.0 on 25 May 2016
– Fix: Email missing the last character sometimes
– Fix: Code optimized to avoid the same coupon is regenerated without deleting the old one in some cases
Version 12.9 on 03 May 2016
– New: Export Cart List as CSV
– New: Documentation updated
Version 12.8 on 01 May 2016
– Fix: Email sending problem with WooCommerce version 2.3.x and lower versions
Version 12.7 on 11 April 2016
– Fix: Problem in sending email using third party email services when bcc field is empty
Version 12.6 on 09 April 2016
– Fix: Test Mail not sent for domains which have more than 4 characters
Version 12.5 on 01 April 2016
– New: Improved the default message of Abandon Cart Email
Version 12.4 on 24 March 2016
– New: Added Option to Recover the Cart list for Manual Orders
– New: Document Updated
– New: Chunk count can be customized
– Tweak: Check order status during "check previous orders"
– Fix: Decoded the labels when site language is other than English
– Fix: Error message displayed in Abandoned Cart Emails
Version 12.3 on 08 March 2016
– Tweak: For Variable Products, Product image displayed instead of Variation image in Emails
Version 12.2 on 12 February 2016
– New: Added customization option for new entry in cart list when redirect to cart page while cancelling the order
– Fix: Script loading before loading the page for guest at checkout
– Fix: Image appearing twice in recover abandon cart emails
Version 12.1 on 08 February 2016
– New: Enhanced unsubscription option for emails
– New: Added send test email option for each email template
– New: Cart details text is changed to link to show the product info in cart list table
Version 12.0.1 on 03 February 2016
– New: Added Customization of border for table ({rac.Productinfo} shortcode)
Version 12.0 on 28 January 2016
– Tweak: Compatibility with WooCommerce 2.5.x
Version 11.9 on 26 January 2016
– New: Option to not capture carts which are in Cancelled Order Status
Version 11.8 on 20 January 2016
– Fix: Cart List problem because of Persistent Cart
Version 11.7 on 17 January 2016
– Fix: Recovering Cart List for Corresponding Order
– Tweak: Captions and Tool Tips tweaked
Version 11.6 on 14 January 2016
– Fix : Unsubscribe link Problem in emails
Version 11.5 on 01 January 2016
– New: Added BCC option for abandon cart emails in email templates
– New: Number of carts recovered made as hyperlink in Reports Tab to see the recovered carts
– New: Added Date filter in Recovered Orders tab
– New: Added option to redirect cart link in email to cart/checkout page
– Fix: Duplicate calling cron job problem
Version 11.4 on 23 December 2015
– Fix : wp_safe_redirect() is missing when cart link is clicked in email
– Fix: product_ids is not stored during coupon creation
– Fix "Cart Recovered" notification sending option "Local" for admin is not working
– Fix: When user places the order without abandoned it, order id is recorded in recovered orders tab
– Fix: When guest places the order, cart row is deleted instead of update the status of cart to "Recovered"
– Fix: Show/Hide problem on "Cart List become Recovered when Order Status" select box and "Enable Email Notification for Admin when Cart is Recovered" check box
Version 11.3 on 15 December 2015
– Fix: Unsubscribe link issue for carts from old order & some guests
– Tweak: wp_safe_redirect() of cart is missing from old order when cart link is clicked in email
Version 11.2 on 13 December 2015
– Tweak: Customization of Sender Information available only for HTML plain text emails
Version 11.1 on 27 November 2015
– Fix: Error upon activating the Plugin
Version 11.0 on 25 November 2015
– New: Delete Abandon carts after x days
– New: Emails sent, Carts recovered columns added in email templates table
– Fix: Problem while save the email id of guest manually in cart list
– Fix: Cart link clicked count problem in reports tab
Version 10.9 on 22 November 2015
– Fix: Previous Abandoned Carts are not recovered when user manually places order
– Fix: Recovered Order id's Added multiple times issue in recovered carts tab
– Fix: Incorrect number of Recovered Cart count displayed in Reports tab
Version 10.8.1 on 18 November 2015
– Fix: Fixed the 'NULL' display problem
Version 10.8 on 15 November 2015
– New: Coupon info in Cart list to know whether Coupon was used
– Fix: Hidden unwanted message displaying
Version 10.7 on 14 November 2015
– Fix: Cart Link problem in Email
Version 10.6 on 13 November 2015
– Fix: Cartlink color selection for hyperlink
Version 10.5 on 12 November 2015
– Fix: Cart List Recovery for Previous and Cancelled Order
Version 10.4 on 07 November 2015
– Fix: Default value set properly for carts that should be changed to recovered
Version 10.3 on 04 November 2015
– New: Duplicate Email template option
– New: Date Range sorting with summary information
– New: Code improved
– New: When the order is cancelled, automatically entered as abandoned in cart list
Version 10.2 on 31 October 2015
– Fix: Unsubscribe link problem
Version 10.1 on 28 October 2015
– New: Shortcode {rac.unsubscribe} for unsubscribe link in Email Message Field
– New: New option "clear the cart content when cart link is clicked"
Version 10.0 on 23 October 2015
– New: Exclude Cart capture by user name, user id & email
– New: Added the Clear Reports button on "Reports" tab to clear the reports.
– New: Show/hide the subtotal,tax info & total rows in Email
– New: Added the date-filter option for cart list table
Version 9.8 on 20 October 2015
– Fix: Translation added for subtotal , tax & total in email template
Version 9.7 on 18 October 2015
– Fix: Fatal error in email when the cart content includes tax
Version 9.6 on 16 October 2015
– Version 9.6
– Fix: Entry registered while place the order using PayPal express checkout payment gateway from guest role
Version 9.5 on 13 October 2015
– Fix: Debug warning fixed for guest cart link
Version 9.4 on 11 October 2015
– New: In Check Previous Order option, added an image to display the progress and when completed display the
number of orders imported to cart list
– New: Display the Tax Information for the products in Abandoned Cart Email
– Fix: Debug warning messages in Abandoned Cart Emails and Cart List Table
– Fix: JSON error when order is placed
Version 9.3 on 08 October 2015
– Fix: Bug fix in Coupon Creation
Version 9.2 on 26 September 2015
– Tweak: Ajax Request Chunked for Checking Previous Orders
– Fix: Bug Fix in Repeating Mail for Previous Orders List
– Fix: Manual Mail for Guest Cart Repeating Mail Problem Fixed
Version 9.1 on 22 September 2015
– New: Added Quantity and Corresponding Price from Cart in Email Product Info Shortcode
– New: Code Cleaned for Product Info Shortcode
– New: Cart Total in Cart List Table
Version 9.0.5 on 11 September 2015
– New: Added Option of Choose which Cart Status to Recovered
– Fix: Removing Cart List when Place Order
Version 9.0.4 on 09 September 2015
– Fix: Unsubscribe link not working
Version 9.0.3 on 06 September 2015
– New: Added Option to Load RAC Scripts/Styles in Header or Footer in Troubleshoot Section for performance
Version 9.0.2 on 05 September 2015
– Fix: Warning Message Fixed in Recovered Orders Tab
Version 9.0.1 on 03 September 2015
– Tweak: Improved Sorting Mail Log Data
Version 9.0 on 01 September 2015
– Fix: Duplicating Email Sending Problem Fixed
Version 8.9 on 25 August 2015
– New: Added List of Recovered Orders as New Tab and SUM of Sales Value
– Fix: Cart Link Updation
– Fix: Sending Email when Recovered Order ID is Recorded
Version 8.8 on 08 August 2015
– New: Added Individual use only for Coupon to avoid conjunction with other coupons
– Fix: Error for Previewing Email Template
Version 8.7 on 06 August 2015
– Fix: Support for WooCommerce Backward Compatibility
Version 8.6 on 04 August 2015
– New: Edit the Email address for guest in the Cart List
– New: Added Page Select and Deslect in Cart List
– New: Status option added to select on which status the cart becomes Recovered
– New : Support tab added
Version 8.5 on 03 August 2015
– Tweak: Code to Sort Cart List and Email Template More Accurate
Version 8.4 on 02 August 2015
– Fix: Error Message for WooCommerce Dependency
Version 8.3 on 28 July 2015
– Fix: New Email template not saving problem
– New: Created WPML config file
– Tweak: Changed the caption for header image logo in HTML mail caption
– Tweak: Display the header image logo selection option when HTML mail template option is selected
Version 8.2 on 22 July 2015
– New: Preview for Email Template
– New: Logo Upload for Email Template
– New: WooCommerce Template / HTML Template in each Email Template
– Tweak: Cron Schedule based on UTC and local time
Version 8.1.4 on 02 July 2015
– Tweak: Supported WPML Compatibility for Unsubscribe Link in Email
Version 8.1.3 on 02 July 2015
– Tweak: Compatible with latest WPML Plugin
Version 8.1.2 on 28 June 2015
– New: Added Option to Customize Unsubscription Settings in My Account Page
– Fix: Sending WPML Mail from Manual Mail Option
Version 8.1.1 on 26 June 2015
– Updated Documentation
Version 8.1 on 15 June 2015
– New: Include/Exclude Products in Coupon
– New: Include/Exclude Categories in Coupon
Version 8.0.2 on 12 June 2015
– Tweak: Optimized the Code to Get Users
Version 8.0.1 on 09 June 2015
– Fix: Code Tweaked to get TinyMCE Editor Content
Version 8.0 on 08 June 2015
– New: Unsubscribe Link in Email
– New: Product Info Shortcode Customization
– New: Troubleshoot Send Test Email as well as HTML Email
– New: Coupon Code Validation (One Coupon per User)
– New: Minimum Spend and Maximum Spend in Coupon
– New: Pre Text Customization Option in Coupon Code Generation
– New: Cart List Recovered Identification without clicking Cart Link
– New: {rac.firstname} and {rac.lastname} Shortcodes supported in Email Subject
– New: Trash Status added in Cart List Table of Recover Abandon Cart
– New: Cart Link Customization Option like href Link/Only URL/Button with Color Customization
– Fix: Bug Fix in setting Local Header in Email
Version 7.2.1 on 06 May 2015
– Fix: Sending Mail to Guest and Test Mail
Version 7.2 on 27 April 2015
– Fix: XSS Security Problem Fixed
Version 7.1.3 on 14 April 2015
– Fix: Optimized getting users for exclude option
Version 7.1.2 on 10 April 2015
– Fix: Parse Error
Version 7.1.1 on 09 April 2015
– Fix: Debug Warnings
Version 7.1 on 29 March 2015
– New: Exclude Users from receiving mail by User role, User name, Email id
Version 7.0.3 on 07 March 2015
– Fix: Product Info Table Structure in Email
Version 7.0.2 on 26 February 2015
– New: Option to Customize Product Info Shortcode Column Name in Email Template
Version 7.0.1 on 20 February 2015
– Fix: Compatibility with WooCommerce Version 2.0.20
Version 7.0 on 18 February 2015
– New: Made Recover Abandon Cart Compatible with WooCommerce 2.3.x
Version 6.9.2 on 08 February 2015
– Fix: Cart Link Clicked Count Problem and Recovering for Guest
– Fix: Coupon Code Creation if the prefix of name before @ is less than 4 characters
Version 6.9.1 on 10 January 2015
– Fix: Last Character Missing Problem in Mail
Version 6.9 on 07 January 2015
– New: Shortcode for Displaying Line Items and Totals in Mail
Version 6.8 on 01 January 2015
– New: WPML Compatibility for Product Info, Cart Link etc in Mail
Version 6.7 on 19 December 2014
– Fix: Check DB version to avoid DB already exists error
Version 6.6 on 06 December 2014
– Fix: Guest Abandoned Cart Recovery Mail
Version 6.5 on 02 December 2014
– New: WooCommerce Backward Compatibility
– New: Default Option for Removing Cart List from Same Users
– Fix: Getting Template ID in Manual Mail
Version 6.4 on 26 November 2014
– New: WPML, WPML String Translation and WooCommerce Multilingual Compatibility for Mails
– New: Phone Number, First Name and Last Name of Buyer in Cart List
– Fix: Echo HTML Tags
Version 6.3 on 22 November 2014
– Enabled Default Option for Sending Mail to Members/Guest
– Bug Fix on Variation Product Information
Version 6.2 on 16 November 2014
– Improvements in Removing Carts from list based on same Email Id
Version 6.1 on 09 November 2014
– Bug Fix on Getting Product Info in Cron Job Email
– Bug Fix for Footable Conflict when Sorting has been made
– Removed Duplicate Shortcode Message in New Email Template
– Fixed Debug Warning Message when visiting from Cart Link
Version 6.0 on 07 November 2014
– Backward Compatibility for WooCommerce Lower Version
Version 5.9 on 06 November 2014
– Changed Option to get price for Product with Line Total
– Bug Fix in Sending Product Info Details for Guest
– Bug Fix in Checking Condition whether it is Guest or Member
Version 5.8 on 03 November 2014
– Bug Fixed in Sending Manual Email from Cart List
Version 5.7 on 16 October 2014
– Bug Fix in Create, Edit Template Problem and Send Custom Email Problem due to jQuery Error on Tinymce
– Added Alternate Mail Sending from Main Domain Option in Troubleshoot Settings
Version 5.6 on 14 October 2014
– Bug Fix in Coupon Code Deletion on Expiry
Version 5.5 on 12 October 2014
– WooCommerce Price Format corrected
– Product Info Table Border in Mail removed
– Localization Added for Product Info Shortcode
Version 5.4 on 08 October 2014
– Bug Fix for Duplicating Options in Admin Settings
Version 5.3 on 03 October 2014
– Bug Fix in Product Info Shortcode in Mail
– Added Shortcode Information in Email Template section as well
Version 5.2 on 01 October 2014
– Send Email to Members and Guests as Option
– Product Name, Image, Price etc can be shown in Email using Shortcode
– Remove New and Abandon Carts from Same Users
– RECOVERED status has been added
Version 5.1 on 17 September 2014
– Bug Fix in Sorting using Numbers in Cart List
Version 5.0 on 08 September 2014
– Bug fix in Template Status Select Box of Mail Template
Version 4.9 on 26 August 2014
– Order Statuses such as "on hold", "pending" etc for removing Succeeded Carts from Abandoned Cart List
Version 4.8 on 23 August 2014
– Order Status as option for removing Succeeded Carts from Abandoned Cart List
Version 4.7 on 13 August 2014
– Added settings save and mail sent notification message on ajax calls
– Added Cart Link Anchor Text option in E-Mail Template
– Added Test Mail option in Troubleshoot
– Removed Template Choose option from plugin or theme
Version 4.6 on 01 August 2014
– Backslash bug fix in manual mail
Version 4.5 on 22 July 2014
– Plain HTML RTF Mail Option
Version 4.4 on 14 July 2014
– Changed default setting for "Use Email Template from" option
Version 4.3 on 10 July 2014
– Option to Delete Used/Expired Coupon (which were generated by the Plugin)
Version 4.2 on 10 July 2014
– Backward Compatibility Added for Lower Version of WooCommerce
Version 4.1 on 07 July 2014
– Automatic Generation of Coupon Code to include in Mail
– Plugin defaults value setup function modified
Version 4.0 on 03 July 2014
– Activate/Deactivate Email Template
– Manual Mailing Option
– Cron Job time shown in Troubleshoot Tab
– Reports Tab
– Shortcodes Tab
– Email Admin Option when Cart is Recovered
– Redirect to Email List when new template is created
Version 3.2 on 25 June 2014
– Email Settings added to use WooCommerce Email Template
– Email Sender options added
– Save Email Template bug fix for backslash
– Shortcode Feature added in the Email Message Template
Version 3.1 on 23 June 2014
– Troubleshoot Settings(wp_mail()/mail()) added
Version 3.0 on 18 June 2014
– Checking Previous Orders for Abandoned Carts
– Mail Sending Start/Stop option for Abandoned Carts
– Mail log Feature added
Version 2.9 on 16 June 2014
– Bug fixed in From Name in Email
Version 2.8 on 14 June 2014
– Email cart link bug fixed
Version 2.7 on 14 June 2014
– Reset Button for resetting to default Abandoned time and Cron job time
Version 2.6 on 3 June 2014
– Date, Time, Email ID are displayed in Cart List Table
– Cart Link added with Anchor tag in default Email Template
Version 2.5 on 28 May 2014
– Improvement Made in Guest Abandoned Cart
Version 2.4 on 27 May 2014
– Bug Fix for Guest Abandoned Cart
– Bug Fix in Cron Time
– Settings link added
Version 2.3 on 24 May 2014
– Improvements made for Guest Abandoned Cart
– Changes made in deciding Abandoned Cart
Version 2.2 on 23 May 2014
– Bug Fix in Removing Completed Cart
Version 2.1 on 20 May 2014
– Supported for WooCommerce 2.0.x and 1.6.x
Version 2.0 on 19 May 2014
– For Guest it works as soon as email ID is entered
– Delete this row option added for abandoned cart list
– Delete All and Delete selected options added for abandoned cart list
– Select All and Deselect All option added
Version 1.4 on 18 May 2014
– Bug fix in variable product for guest
Version 1.3 on 17 May 2014
– Improvement is made in mail sending function
– Email Status shown in the table
Version 1.2 on 16 May 2014
– ShortCode Support for First Name and Last Name of Buyer
Version 1.1 on 13 May 2014
– Works for Guests as well
Version 1.0 on 9 May 2014
– Initial ReleaseVersion 16.6 on 02 June 2017
New: Compatible with WooCommerce Product Add-ons
Tweak: Improved compatibility with Aleia Currency Switcher
Version 16.5 on 19 May 2017
New: Option to set image in place of {rac.cartlink} shortcode
New: Send Email display option
Tweak: Improvement to set the cron
Fix: Error in Cart details table
Version 16.4 on 10 May 2017
New: Option added to prevent RAC emails being sent to user for the cart list if an already purchased product is one of the product in the captured list
Tweak: Code Optimized
Tweak: PO file updated
Fix: Empty cart list tab page
Version 16.3 on 03 May 2017
Tweak: Improvements in the settings labels
Tweak: Updated PO Files
Fix: Empty Email problem when WPML is used
Version 16.2 on 25 April 2017
New: Multi Currency support for WPML Multi Currency, Aelia Currency Switcher, WooCommerce Currency Switcher
New: Include/Exclude options added for Cart List capturing and Email sending
New: Warning Message added for improving usability
Tweak: Order Total can be set as 0 in Segmentation filter
Tweak: PO files Updated
Fix: Next Cron Job Time display issue in Troubleshoot
Version 16.1 on 19 April 2017
New: New cart capture based on selected status for captured cart
New: Bulk Update option to Stop/Start mailing
Tweak: Enqueue script improvements
Fix: Template not updated while sending manual emails
Version 16.0 on 11 April 2017
New: WooCommerce 3.0 compatibility
Fix: Fatal Error in Cart List tab
Fix: Undefined Offset Problem
Fix: Test Email sending issue
Fix: Restriction not applied properly when Don't capture any New Cart option is selected
Fix: Script error when Clear Reports button is clicked
Version 15.9 on 05 April 2017
New: Added shortcode to display Product Name in Email Subject
New: Bulk Update option for start emailing and stop emailing
Tweak: PHP 7.1 Compatibility
Tweak: Validation for creating tables
Tweak: Updated Po Files
Version 15.8 on 14 March 2017
New: Option to restrict sending of emails based on email id providers
New: Added Product and Category filter in segmentation
New: Filter for CSV Export
Tweak: Validation for empty values in Plugin Settings
Tweak: Updated po and mo files
Fix: Undefined offset problem
Version 15.7 on 02 March 2017
New: Code Improvements and Performance Optimization
Version 15.6 on 16 February 2017
Tweak: Code Improvements
Version 15.5 on 07 February 2017
New: Option to give Free Shipping for Coupon
Tweak: Code Improvements
Version 15.4 on 02 February 2017
New: Option to Restrict Entry in Cart List if the User already has an active Abandoned Cart
New: Added Filters for Export CSV File
Tweak: Updated po and mo files
Version 15.3 on 17 January 2017
New: Subscribed and Unsubscribed sections added in Cart List tab
New: Confirmation dialogue box added when Mark as Recover button is clicked
Tweak: Cart Total is updated after Shipping and tax Calculation for Guest
Fix: Fatal Error when WooCommerce is not Active
Version 15.2 on 08 January 2017
New: Display Product SKU in Cart List and Product Info Email
New: Option to Update Cart List Status In Troubleshoot tab
Tweak: Code Improved to avoid fatal error
Tweak: Saving additional time details during cart link click
Fix: Recovered Order Id display problem when Order is Recovered
Version 15.1 on 19 December 2016
Fix: Default value setting problem
Fix: Unsubscription message display problem
Fix: Error log problem
Fix: Update the cart in the list when the cart is updated by the user
Version 15.0 on 05 December 2016
New: Graphical Reports
New: Email Sender option for WooCommerce Template Type
New: Troubleshoot option added for including MIME Version 1.0 and Reply-To parameters
New: Option to send mails based on previous mail sent Time
New: Added po & mo files for Italian language
Tweak: Admin notification based on Order Status of the Recovered Order
Tweak: Updated po files
Tweak: Updated Translation strings
Tweak: Code Updated
Fix: Page break issue when products or users are deleted
Fix: Order considered as Recovered if the Order was cancelled in the Payment Page
Fix: Recovered Orders count updated when Cart is Recovered without clicking the Cart Link in Email
Fix: Display issue in Shortcodes tab
Fix: Empty cart issue when member clicks link as guest
Fix: Clear Cart Content option not working for Member
Version 14.6 on 10 November 2016
New: Pagination for Recovered Orders tab
New: Sorting for Mail Logs and Recovered Orders based on Oldest/Newest display first option
Tweak: Code improvements
Version 14.5.1 on 07 November 2016
Fix: Undefined function problem
Version 14.5 on 02 November 2016
New: Added Segmentation for Email Templates
Tweak: PO files Updated
Version 14.4 on 25 October 2016
New: Option to set which cron will be used
Tweak: Improvement in script loading
Version 14.3 on 18 October 2016
New: Added Warning Message when cron is disabled
Version 14.2 on 14 October 2016
Fix: Display issue in user name search field of Custom Restrict Settings when using WooCommerce Version 2.2.11 and below
Version 14.1 on 04 October 2016
New: Product Info Alignment section to customize position of columns in Product Info Table
New: Ascending/Descending Order to display Cart List table
New: Separate options to Show/Hide Shipping, Tax in Abandoned Cart Emails
Tweak: Product Info Table alignment when columns are hidden
Tweak: Updated PO Files
Fix: Error occurred in Mail Log when the template used for sending the email is deleted
Fix: Shipping Cost displayed without Tax in Emails
Fix: Restore Cart from Cart Link when Cart is already Recovered
Fix: Blank space added for Image in Emails when using HTML Template
Version 14.0 on 23 September 2016
New: Shipping Cost in Abandon Cart Email
New: Option to change Cart to Recovered Status manually
Tweak: Compatibility with WooCommerce Version 2.3 and below for displaying price in emails
Tweak: Dummy shortcode value in subject of test email templates
Tweak: Cart Total display in Cart List Including tax and Shipping Cost
Tweak: Display Dummy Tax and Shipping cost in Test Email and template Preview
Tweak: Updated po and mo files
Version 13.9 on 16 September 2016
New: URL redirection to specific language site based on Cart Abandoning language
Tweak: Optimized code to reduce Ajax loading time for Guest Cart capturing
Fix: Problems when using the plugin with WooCommerce 2.4.x and below
Fix: For Guests, Cart Link in Abandon Cart Email redirects to Empty Cart when using multiple email templates
Version 13.8 on 01 September 2016
New: Option to "Replace" or "Append" WooCommerce Footer Text with Unsubscription Link Text
Tweak: Dummy Content for Shortcode in Email Template Preview and Test Emails
Fix: Variation name displayed incorrectly when Global Variations are used for the Product
Fix: Empty Cart Item created for Guests when custom checkout form is used
Fix: Problem in capturing Guest Firstname and Lastname
Version 13.7 on 19 August 2016
New: Option to Show/Hide Variation name of Variable Products in Abandoned Cart Emails
Tweak: Updated Complete Translation po files for French Language
Fix: Variation name duplicated in Abandon Cart Mails if the Cart Item is a Variable Subscription product
Fix: IP Capturing Issue when using Cloud Proxy
Version 13.6 on 05 August 2016
Tweak: Capturing Guest Cart as External JS File
Fix: Conflict with WooCommerce Color Picker
Version 13.5 on 24 July 2016
New: Option to Customize Date and Time format
Fix: Proxy Server Cart Capture Issue for Guest
Tweak: Fetch DB Results Order by IDs
Version 13.4 on 18 July 2016
– Fix: Duplicate emails received when more than one mail template triggered at the same time
– New: Updated documentation
Version 13.3 on 20 June 2016
– New: Shortcode for displaying Date and Time of captured Cart in Email Template
– Tweak: Changed Variable Product Name Displaying Style In Product Info Table
Version 13.2 on 13 June 2016
– Fix: Cart Link not displaying all variations for Guest
– New: Documentation Updated
Version 13.1 on 03 June 2016
– New: Option to Display Product Price Including Tax in Abandoned Cart Emails
Version 13.0 on 25 May 2016
– Fix: Email missing the last character sometimes
– Fix: Code optimized to avoid the same coupon is regenerated without deleting the old one in some cases
Version 12.9 on 03 May 2016
– New: Export Cart List as CSV
– New: Documentation updated
Version 12.8 on 01 May 2016
– Fix: Email sending problem with WooCommerce version 2.3.x and lower versions
Version 12.7 on 11 April 2016
– Fix: Problem in sending email using third party email services when bcc field is empty
Version 12.6 on 09 April 2016
– Fix: Test Mail not sent for domains which have more than 4 characters
Version 12.5 on 01 April 2016
– New: Improved the default message of Abandon Cart Email
Version 12.4 on 24 March 2016
– New: Added Option to Recover the Cart list for Manual Orders
– New: Document Updated
– New: Chunk count can be customized
– Tweak: Check order status during "check previous orders"
– Fix: Decoded the labels when site language is other than English
– Fix: Error message displayed in Abandoned Cart Emails
Version 12.3 on 08 March 2016
– Tweak: For Variable Products, Product image displayed instead of Variation image in Emails
Version 12.2 on 12 February 2016
– New: Added customization option for new entry in cart list when redirect to cart page while cancelling the order
– Fix: Script loading before loading the page for guest at checkout
– Fix: Image appearing twice in recover abandon cart emails
Version 12.1 on 08 February 2016
– New: Enhanced unsubscription option for emails
– New: Added send test email option for each email template
– New: Cart details text is changed to link to show the product info in cart list table
Version 12.0.1 on 03 February 2016
– New: Added Customization of border for table ({rac.Productinfo} shortcode)
Version 12.0 on 28 January 2016
– Tweak: Compatibility with WooCommerce 2.5.x
Version 11.9 on 26 January 2016
– New: Option to not capture carts which are in Cancelled Order Status
Version 11.8 on 20 January 2016
– Fix: Cart List problem because of Persistent Cart
Version 11.7 on 17 January 2016
– Fix: Recovering Cart List for Corresponding Order
– Tweak: Captions and Tool Tips tweaked
Version 11.6 on 14 January 2016
– Fix : Unsubscribe link Problem in emails
Version 11.5 on 01 January 2016
– New: Added BCC option for abandon cart emails in email templates
– New: Number of carts recovered made as hyperlink in Reports Tab to see the recovered carts
– New: Added Date filter in Recovered Orders tab
– New: Added option to redirect cart link in email to cart/checkout page
– Fix: Duplicate calling cron job problem
Version 11.4 on 23 December 2015
– Fix : wp_safe_redirect() is missing when cart link is clicked in email
– Fix: product_ids is not stored during coupon creation
– Fix "Cart Recovered" notification sending option "Local" for admin is not working
– Fix: When user places the order without abandoned it, order id is recorded in recovered orders tab
– Fix: When guest places the order, cart row is deleted instead of update the status of cart to "Recovered"
– Fix: Show/Hide problem on "Cart List become Recovered when Order Status" select box and "Enable Email Notification for Admin when Cart is Recovered" check box
Version 11.3 on 15 December 2015
– Fix: Unsubscribe link issue for carts from old order & some guests
– Tweak: wp_safe_redirect() of cart is missing from old order when cart link is clicked in email
Version 11.2 on 13 December 2015
– Tweak: Customization of Sender Information available only for HTML plain text emails
Version 11.1 on 27 November 2015
– Fix: Error upon activating the Plugin
Version 11.0 on 25 November 2015
– New: Delete Abandon carts after x days
– New: Emails sent, Carts recovered columns added in email templates table
– Fix: Problem while save the email id of guest manually in cart list
– Fix: Cart link clicked count problem in reports tab
Version 10.9 on 22 November 2015
– Fix: Previous Abandoned Carts are not recovered when user manually places order
– Fix: Recovered Order id's Added multiple times issue in recovered carts tab
– Fix: Incorrect number of Recovered Cart count displayed in Reports tab
Version 10.8.1 on 18 November 2015
– Fix: Fixed the 'NULL' display problem
Version 10.8 on 15 November 2015
– New: Coupon info in Cart list to know whether Coupon was used
– Fix: Hidden unwanted message displaying
Version 10.7 on 14 November 2015
– Fix: Cart Link problem in Email
Version 10.6 on 13 November 2015
– Fix: Cartlink color selection for hyperlink
Version 10.5 on 12 November 2015
– Fix: Cart List Recovery for Previous and Cancelled Order
Version 10.4 on 07 November 2015
– Fix: Default value set properly for carts that should be changed to recovered
Version 10.3 on 04 November 2015
– New: Duplicate Email template option
– New: Date Range sorting with summary information
– New: Code improved
– New: When the order is cancelled, automatically entered as abandoned in cart list
Version 10.2 on 31 October 2015
– Fix: Unsubscribe link problem
Version 10.1 on 28 October 2015
– New: Shortcode {rac.unsubscribe} for unsubscribe link in Email Message Field
– New: New option "clear the cart content when cart link is clicked"
Version 10.0 on 23 October 2015
– New: Exclude Cart capture by user name, user id & email
– New: Added the Clear Reports button on "Reports" tab to clear the reports.
– New: Show/hide the subtotal,tax info & total rows in Email
– New: Added the date-filter option for cart list table
Version 9.8 on 20 October 2015
– Fix: Translation added for subtotal , tax & total in email template
Version 9.7 on 18 October 2015
– Fix: Fatal error in email when the cart content includes tax
Version 9.6 on 16 October 2015
– Version 9.6
– Fix: Entry registered while place the order using PayPal express checkout payment gateway from guest role
Version 9.5 on 13 October 2015
– Fix: Debug warning fixed for guest cart link
Version 9.4 on 11 October 2015
– New: In Check Previous Order option, added an image to display the progress and when completed display the
number of orders imported to cart list
– New: Display the Tax Information for the products in Abandoned Cart Email
– Fix: Debug warning messages in Abandoned Cart Emails and Cart List Table
– Fix: JSON error when order is placed
Version 9.3 on 08 October 2015
– Fix: Bug fix in Coupon Creation
Version 9.2 on 26 September 2015
– Tweak: Ajax Request Chunked for Checking Previous Orders
– Fix: Bug Fix in Repeating Mail for Previous Orders List
– Fix: Manual Mail for Guest Cart Repeating Mail Problem Fixed
Version 9.1 on 22 September 2015
– New: Added Quantity and Corresponding Price from Cart in Email Product Info Shortcode
– New: Code Cleaned for Product Info Shortcode
– New: Cart Total in Cart List Table
Version 9.0.5 on 11 September 2015
– New: Added Option of Choose which Cart Status to Recovered
– Fix: Removing Cart List when Place Order
Version 9.0.4 on 09 September 2015
– Fix: Unsubscribe link not working
Version 9.0.3 on 06 September 2015
– New: Added Option to Load RAC Scripts/Styles in Header or Footer in Troubleshoot Section for performance
Version 9.0.2 on 05 September 2015
– Fix: Warning Message Fixed in Recovered Orders Tab
Version 9.0.1 on 03 September 2015
– Tweak: Improved Sorting Mail Log Data
Version 9.0 on 01 September 2015
– Fix: Duplicating Email Sending Problem Fixed
Version 8.9 on 25 August 2015
– New: Added List of Recovered Orders as New Tab and SUM of Sales Value
– Fix: Cart Link Updation
– Fix: Sending Email when Recovered Order ID is Recorded
Version 8.8 on 08 August 2015
– New: Added Individual use only for Coupon to avoid conjunction with other coupons
– Fix: Error for Previewing Email Template
Version 8.7 on 06 August 2015
– Fix: Support for WooCommerce Backward Compatibility
Version 8.6 on 04 August 2015
– New: Edit the Email address for guest in the Cart List
– New: Added Page Select and Deslect in Cart List
– New: Status option added to select on which status the cart becomes Recovered
– New : Support tab added
Version 8.5 on 03 August 2015
– Tweak: Code to Sort Cart List and Email Template More Accurate
Version 8.4 on 02 August 2015
– Fix: Error Message for WooCommerce Dependency
Version 8.3 on 28 July 2015
– Fix: New Email template not saving problem
– New: Created WPML config file
– Tweak: Changed the caption for header image logo in HTML mail caption
– Tweak: Display the header image logo selection option when HTML mail template option is selected
Version 8.2 on 22 July 2015
– New: Preview for Email Template
– New: Logo Upload for Email Template
– New: WooCommerce Template / HTML Template in each Email Template
– Tweak: Cron Schedule based on UTC and local time
Version 8.1.4 on 02 July 2015
– Tweak: Supported WPML Compatibility for Unsubscribe Link in Email
Version 8.1.3 on 02 July 2015
– Tweak: Compatible with latest WPML Plugin
Version 8.1.2 on 28 June 2015
– New: Added Option to Customize Unsubscription Settings in My Account Page
– Fix: Sending WPML Mail from Manual Mail Option
Version 8.1.1 on 26 June 2015
– Updated Documentation
Version 8.1 on 15 June 2015
– New: Include/Exclude Products in Coupon
– New: Include/Exclude Categories in Coupon
Version 8.0.2 on 12 June 2015
– Tweak: Optimized the Code to Get Users
Version 8.0.1 on 09 June 2015
– Fix: Code Tweaked to get TinyMCE Editor Content
Version 8.0 on 08 June 2015
– New: Unsubscribe Link in Email
– New: Product Info Shortcode Customization
– New: Troubleshoot Send Test Email as well as HTML Email
– New: Coupon Code Validation (One Coupon per User)
– New: Minimum Spend and Maximum Spend in Coupon
– New: Pre Text Customization Option in Coupon Code Generation
– New: Cart List Recovered Identification without clicking Cart Link
– New: {rac.firstname} and {rac.lastname} Shortcodes supported in Email Subject
– New: Trash Status added in Cart List Table of Recover Abandon Cart
– New: Cart Link Customization Option like href Link/Only URL/Button with Color Customization
– Fix: Bug Fix in setting Local Header in Email
Version 7.2.1 on 06 May 2015
– Fix: Sending Mail to Guest and Test Mail
Version 7.2 on 27 April 2015
– Fix: XSS Security Problem Fixed
Version 7.1.3 on 14 April 2015
– Fix: Optimized getting users for exclude option
Version 7.1.2 on 10 April 2015
– Fix: Parse Error
Version 7.1.1 on 09 April 2015
– Fix: Debug Warnings
Version 7.1 on 29 March 2015
– New: Exclude Users from receiving mail by User role, User name, Email id
Version 7.0.3 on 07 March 2015
– Fix: Product Info Table Structure in Email
Version 7.0.2 on 26 February 2015
– New: Option to Customize Product Info Shortcode Column Name in Email Template
Version 7.0.1 on 20 February 2015
– Fix: Compatibility with WooCommerce Version 2.0.20
Version 7.0 on 18 February 2015
– New: Made Recover Abandon Cart Compatible with WooCommerce 2.3.x
Version 6.9.2 on 08 February 2015
– Fix: Cart Link Clicked Count Problem and Recovering for Guest
– Fix: Coupon Code Creation if the prefix of name before @ is less than 4 characters
Version 6.9.1 on 10 January 2015
– Fix: Last Character Missing Problem in Mail
Version 6.9 on 07 January 2015
– New: Shortcode for Displaying Line Items and Totals in Mail
Version 6.8 on 01 January 2015
– New: WPML Compatibility for Product Info, Cart Link etc in Mail
Version 6.7 on 19 December 2014
– Fix: Check DB version to avoid DB already exists error
Version 6.6 on 06 December 2014
– Fix: Guest Abandoned Cart Recovery Mail
Version 6.5 on 02 December 2014
– New: WooCommerce Backward Compatibility
– New: Default Option for Removing Cart List from Same Users
– Fix: Getting Template ID in Manual Mail
Version 6.4 on 26 November 2014
– New: WPML, WPML String Translation and WooCommerce Multilingual Compatibility for Mails
– New: Phone Number, First Name and Last Name of Buyer in Cart List
– Fix: Echo HTML Tags
Version 6.3 on 22 November 2014
– Enabled Default Option for Sending Mail to Members/Guest
– Bug Fix on Variation Product Information
Version 6.2 on 16 November 2014
– Improvements in Removing Carts from list based on same Email Id
Version 6.1 on 09 November 2014
– Bug Fix on Getting Product Info in Cron Job Email
– Bug Fix for Footable Conflict when Sorting has been made
– Removed Duplicate Shortcode Message in New Email Template
– Fixed Debug Warning Message when visiting from Cart Link
Version 6.0 on 07 November 2014
– Backward Compatibility for WooCommerce Lower Version
Version 5.9 on 06 November 2014
– Changed Option to get price for Product with Line Total
– Bug Fix in Sending Product Info Details for Guest
– Bug Fix in Checking Condition whether it is Guest or Member
Version 5.8 on 03 November 2014
– Bug Fixed in Sending Manual Email from Cart List
Version 5.7 on 16 October 2014
– Bug Fix in Create, Edit Template Problem and Send Custom Email Problem due to jQuery Error on Tinymce
– Added Alternate Mail Sending from Main Domain Option in Troubleshoot Settings
Version 5.6 on 14 October 2014
– Bug Fix in Coupon Code Deletion on Expiry
Version 5.5 on 12 October 2014
– WooCommerce Price Format corrected
– Product Info Table Border in Mail removed
– Localization Added for Product Info Shortcode
Version 5.4 on 08 October 2014
– Bug Fix for Duplicating Options in Admin Settings
Version 5.3 on 03 October 2014
– Bug Fix in Product Info Shortcode in Mail
– Added Shortcode Information in Email Template section as well
Version 5.2 on 01 October 2014
– Send Email to Members and Guests as Option
– Product Name, Image, Price etc can be shown in Email using Shortcode
– Remove New and Abandon Carts from Same Users
– RECOVERED status has been added
Version 5.1 on 17 September 2014
– Bug Fix in Sorting using Numbers in Cart List
Version 5.0 on 08 September 2014
– Bug fix in Template Status Select Box of Mail Template
Version 4.9 on 26 August 2014
– Order Statuses such as "on hold", "pending" etc for removing Succeeded Carts from Abandoned Cart List
Version 4.8 on 23 August 2014
– Order Status as option for removing Succeeded Carts from Abandoned Cart List
Version 4.7 on 13 August 2014
– Added settings save and mail sent notification message on ajax calls
– Added Cart Link Anchor Text option in E-Mail Template
– Added Test Mail option in Troubleshoot
– Removed Template Choose option from plugin or theme
Version 4.6 on 01 August 2014
– Backslash bug fix in manual mail
Version 4.5 on 22 July 2014
– Plain HTML RTF Mail Option
Version 4.4 on 14 July 2014
– Changed default setting for "Use Email Template from" option
Version 4.3 on 10 July 2014
– Option to Delete Used/Expired Coupon (which were generated by the Plugin)
Version 4.2 on 10 July 2014
– Backward Compatibility Added for Lower Version of WooCommerce
Version 4.1 on 07 July 2014
– Automatic Generation of Coupon Code to include in Mail
– Plugin defaults value setup function modified
Version 4.0 on 03 July 2014
– Activate/Deactivate Email Template
– Manual Mailing Option
– Cron Job time shown in Troubleshoot Tab
– Reports Tab
– Shortcodes Tab
– Email Admin Option when Cart is Recovered
– Redirect to Email List when new template is created
Version 3.2 on 25 June 2014
– Email Settings added to use WooCommerce Email Template
– Email Sender options added
– Save Email Template bug fix for backslash
– Shortcode Feature added in the Email Message Template
Version 3.1 on 23 June 2014
– Troubleshoot Settings(wp_mail()/mail()) added
Version 3.0 on 18 June 2014
– Checking Previous Orders for Abandoned Carts
– Mail Sending Start/Stop option for Abandoned Carts
– Mail log Feature added
Version 2.9 on 16 June 2014
– Bug fixed in From Name in Email
Version 2.8 on 14 June 2014
– Email cart link bug fixed
Version 2.7 on 14 June 2014
– Reset Button for resetting to default Abandoned time and Cron job time
Version 2.6 on 3 June 2014
– Date, Time, Email ID are displayed in Cart List Table
– Cart Link added with Anchor tag in default Email Template
Version 2.5 on 28 May 2014
– Improvement Made in Guest Abandoned Cart
Version 2.4 on 27 May 2014
– Bug Fix for Guest Abandoned Cart
– Bug Fix in Cron Time
– Settings link added
Version 2.3 on 24 May 2014
– Improvements made for Guest Abandoned Cart
– Changes made in deciding Abandoned Cart
Version 2.2 on 23 May 2014
– Bug Fix in Removing Completed Cart
Version 2.1 on 20 May 2014
– Supported for WooCommerce 2.0.x and 1.6.x
Version 2.0 on 19 May 2014
– For Guest it works as soon as email ID is entered
– Delete this row option added for abandoned cart list
– Delete All and Delete selected options added for abandoned cart list
– Select All and Deselect All option added
Version 1.4 on 18 May 2014
– Bug fix in variable product for guest
Version 1.3 on 17 May 2014
– Improvement is made in mail sending function
– Email Status shown in the table
Version 1.2 on 16 May 2014
– ShortCode Support for First Name and Last Name of Buyer
Version 1.1 on 13 May 2014
– Works for Guests as well
Version 1.0 on 9 May 2014
– Initial ReleaseVersion 16.6 on 02 June 2017
New: Compatible with WooCommerce Product Add-ons
Tweak: Improved compatibility with Aleia Currency Switcher
Version 16.5 on 19 May 2017
New: Option to set image in place of {rac.cartlink} shortcode
New: Send Email display option
Tweak: Improvement to set the cron
Fix: Error in Cart details table
Version 16.4 on 10 May 2017
New: Option added to prevent RAC emails being sent to user for the cart list if an already purchased product is one of the product in the captured list
Tweak: Code Optimized
Tweak: PO file updated
Fix: Empty cart list tab page
Version 16.3 on 03 May 2017
Tweak: Improvements in the settings labels
Tweak: Updated PO Files
Fix: Empty Email problem when WPML is used
Version 16.2 on 25 April 2017
New: Multi Currency support for WPML Multi Currency, Aelia Currency Switcher, WooCommerce Currency Switcher
New: Include/Exclude options added for Cart List capturing and Email sending
New: Warning Message added for improving usability
Tweak: Order Total can be set as 0 in Segmentation filter
Tweak: PO files Updated
Fix: Next Cron Job Time display issue in Troubleshoot
Version 16.1 on 19 April 2017
New: New cart capture based on selected status for captured cart
New: Bulk Update option to Stop/Start mailing
Tweak: Enqueue script improvements
Fix: Template not updated while sending manual emails
Version 16.0 on 11 April 2017
New: WooCommerce 3.0 compatibility
Fix: Fatal Error in Cart List tab
Fix: Undefined Offset Problem
Fix: Test Email sending issue
Fix: Restriction not applied properly when Don't capture any New Cart option is selected
Fix: Script error when Clear Reports button is clicked
Version 15.9 on 05 April 2017
New: Added shortcode to display Product Name in Email Subject
New: Bulk Update option for start emailing and stop emailing
Tweak: PHP 7.1 Compatibility
Tweak: Validation for creating tables
Tweak: Updated Po Files
Version 15.8 on 14 March 2017
New: Option to restrict sending of emails based on email id providers
New: Added Product and Category filter in segmentation
New: Filter for CSV Export
Tweak: Validation for empty values in Plugin Settings
Tweak: Updated po and mo files
Fix: Undefined offset problem
Version 15.7 on 02 March 2017
New: Code Improvements and Performance Optimization
Version 15.6 on 16 February 2017
Tweak: Code Improvements
Version 15.5 on 07 February 2017
New: Option to give Free Shipping for Coupon
Tweak: Code Improvements
Version 15.4 on 02 February 2017
New: Option to Restrict Entry in Cart List if the User already has an active Abandoned Cart
New: Added Filters for Export CSV File
Tweak: Updated po and mo files
Version 15.3 on 17 January 2017
New: Subscribed and Unsubscribed sections added in Cart List tab
New: Confirmation dialogue box added when Mark as Recover button is clicked
Tweak: Cart Total is updated after Shipping and tax Calculation for Guest
Fix: Fatal Error when WooCommerce is not Active
Version 15.2 on 08 January 2017
New: Display Product SKU in Cart List and Product Info Email
New: Option to Update Cart List Status In Troubleshoot tab
Tweak: Code Improved to avoid fatal error
Tweak: Saving additional time details during cart link click
Fix: Recovered Order Id display problem when Order is Recovered
Version 15.1 on 19 December 2016
Fix: Default value setting problem
Fix: Unsubscription message display problem
Fix: Error log problem
Fix: Update the cart in the list when the cart is updated by the user
Version 15.0 on 05 December 2016
New: Graphical Reports
New: Email Sender option for WooCommerce Template Type
New: Troubleshoot option added for including MIME Version 1.0 and Reply-To parameters
New: Option to send mails based on previous mail sent Time
New: Added po & mo files for Italian language
Tweak: Admin notification based on Order Status of the Recovered Order
Tweak: Updated po files
Tweak: Updated Translation strings
Tweak: Code Updated
Fix: Page break issue when products or users are deleted
Fix: Order considered as Recovered if the Order was cancelled in the Payment Page
Fix: Recovered Orders count updated when Cart is Recovered without clicking the Cart Link in Email
Fix: Display issue in Shortcodes tab
Fix: Empty cart issue when member clicks link as guest
Fix: Clear Cart Content option not working for Member
Version 14.6 on 10 November 2016
New: Pagination for Recovered Orders tab
New: Sorting for Mail Logs and Recovered Orders based on Oldest/Newest display first option
Tweak: Code improvements
Version 14.5.1 on 07 November 2016
Fix: Undefined function problem
Version 14.5 on 02 November 2016
New: Added Segmentation for Email Templates
Tweak: PO files Updated
Version 14.4 on 25 October 2016
New: Option to set which cron will be used
Tweak: Improvement in script loading
Version 14.3 on 18 October 2016
New: Added Warning Message when cron is disabled
Version 14.2 on 14 October 2016
Fix: Display issue in user name search field of Custom Restrict Settings when using WooCommerce Version 2.2.11 and below
Version 14.1 on 04 October 2016
New: Product Info Alignment section to customize position of columns in Product Info Table
New: Ascending/Descending Order to display Cart List table
New: Separate options to Show/Hide Shipping, Tax in Abandoned Cart Emails
Tweak: Product Info Table alignment when columns are hidden
Tweak: Updated PO Files
Fix: Error occurred in Mail Log when the template used for sending the email is deleted
Fix: Shipping Cost displayed without Tax in Emails
Fix: Restore Cart from Cart Link when Cart is already Recovered
Fix: Blank space added for Image in Emails when using HTML Template
Version 14.0 on 23 September 2016
New: Shipping Cost in Abandon Cart Email
New: Option to change Cart to Recovered Status manually
Tweak: Compatibility with WooCommerce Version 2.3 and below for displaying price in emails
Tweak: Dummy shortcode value in subject of test email templates
Tweak: Cart Total display in Cart List Including tax and Shipping Cost
Tweak: Display Dummy Tax and Shipping cost in Test Email and template Preview
Tweak: Updated po and mo files
Version 13.9 on 16 September 2016
New: URL redirection to specific language site based on Cart Abandoning language
Tweak: Optimized code to reduce Ajax loading time for Guest Cart capturing
Fix: Problems when using the plugin with WooCommerce 2.4.x and below
Fix: For Guests, Cart Link in Abandon Cart Email redirects to Empty Cart when using multiple email templates
Version 13.8 on 01 September 2016
New: Option to "Replace" or "Append" WooCommerce Footer Text with Unsubscription Link Text
Tweak: Dummy Content for Shortcode in Email Template Preview and Test Emails
Fix: Variation name displayed incorrectly when Global Variations are used for the Product
Fix: Empty Cart Item created for Guests when custom checkout form is used
Fix: Problem in capturing Guest Firstname and Lastname
Version 13.7 on 19 August 2016
New: Option to Show/Hide Variation name of Variable Products in Abandoned Cart Emails
Tweak: Updated Complete Translation po files for French Language
Fix: Variation name duplicated in Abandon Cart Mails if the Cart Item is a Variable Subscription product
Fix: IP Capturing Issue when using Cloud Proxy
Version 13.6 on 05 August 2016
Tweak: Capturing Guest Cart as External JS File
Fix: Conflict with WooCommerce Color Picker
Version 13.5 on 24 July 2016
New: Option to Customize Date and Time format
Fix: Proxy Server Cart Capture Issue for Guest
Tweak: Fetch DB Results Order by IDs
Version 13.4 on 18 July 2016
– Fix: Duplicate emails received when more than one mail template triggered at the same time
– New: Updated documentation
Version 13.3 on 20 June 2016
– New: Shortcode for displaying Date and Time of captured Cart in Email Template
– Tweak: Changed Variable Product Name Displaying Style In Product Info Table
Version 13.2 on 13 June 2016
– Fix: Cart Link not displaying all variations for Guest
– New: Documentation Updated
Version 13.1 on 03 June 2016
– New: Option to Display Product Price Including Tax in Abandoned Cart Emails
Version 13.0 on 25 May 2016
– Fix: Email missing the last character sometimes
– Fix: Code optimized to avoid the same coupon is regenerated without deleting the old one in some cases
Version 12.9 on 03 May 2016
– New: Export Cart List as CSV
– New: Documentation updated
Version 12.8 on 01 May 2016
– Fix: Email sending problem with WooCommerce version 2.3.x and lower versions
Version 12.7 on 11 April 2016
– Fix: Problem in sending email using third party email services when bcc field is empty
Version 12.6 on 09 April 2016
– Fix: Test Mail not sent for domains which have more than 4 characters
Version 12.5 on 01 April 2016
– New: Improved the default message of Abandon Cart Email
Version 12.4 on 24 March 2016
– New: Added Option to Recover the Cart list for Manual Orders
– New: Document Updated
– New: Chunk count can be customized
– Tweak: Check order status during "check previous orders"
– Fix: Decoded the labels when site language is other than English
– Fix: Error message displayed in Abandoned Cart Emails
Version 12.3 on 08 March 2016
– Tweak: For Variable Products, Product image displayed instead of Variation image in Emails
Version 12.2 on 12 February 2016
– New: Added customization option for new entry in cart list when redirect to cart page while cancelling the order
– Fix: Script loading before loading the page for guest at checkout
– Fix: Image appearing twice in recover abandon cart emails
Version 12.1 on 08 February 2016
– New: Enhanced unsubscription option for emails
– New: Added send test email option for each email template
– New: Cart details text is changed to link to show the product info in cart list table
Version 12.0.1 on 03 February 2016
– New: Added Customization of border for table ({rac.Productinfo} shortcode)
Version 12.0 on 28 January 2016
– Tweak: Compatibility with WooCommerce 2.5.x
Version 11.9 on 26 January 2016
– New: Option to not capture carts which are in Cancelled Order Status
Version 11.8 on 20 January 2016
– Fix: Cart List problem because of Persistent Cart
Version 11.7 on 17 January 2016
– Fix: Recovering Cart List for Corresponding Order
– Tweak: Captions and Tool Tips tweaked
Version 11.6 on 14 January 2016
– Fix : Unsubscribe link Problem in emails
Version 11.5 on 01 January 2016
– New: Added BCC option for abandon cart emails in email templates
– New: Number of carts recovered made as hyperlink in Reports Tab to see the recovered carts
– New: Added Date filter in Recovered Orders tab
– New: Added option to redirect cart link in email to cart/checkout page
– Fix: Duplicate calling cron job problem
Version 11.4 on 23 December 2015
– Fix : wp_safe_redirect() is missing when cart link is clicked in email
– Fix: product_ids is not stored during coupon creation
– Fix "Cart Recovered" notification sending option "Local" for admin is not working
– Fix: When user places the order without abandoned it, order id is recorded in recovered orders tab
– Fix: When guest places the order, cart row is deleted instead of update the status of cart to "Recovered"
– Fix: Show/Hide problem on "Cart List become Recovered when Order Status" select box and "Enable Email Notification for Admin when Cart is Recovered" check box
Version 11.3 on 15 December 2015
– Fix: Unsubscribe link issue for carts from old order & some guests
– Tweak: wp_safe_redirect() of cart is missing from old order when cart link is clicked in email
Version 11.2 on 13 December 2015
– Tweak: Customization of Sender Information available only for HTML plain text emails
Version 11.1 on 27 November 2015
– Fix: Error upon activating the Plugin
Version 11.0 on 25 November 2015
– New: Delete Abandon carts after x days
– New: Emails sent, Carts recovered columns added in email templates table
– Fix: Problem while save the email id of guest manually in cart list
– Fix: Cart link clicked count problem in reports tab
Version 10.9 on 22 November 2015
– Fix: Previous Abandoned Carts are not recovered when user manually places order
– Fix: Recovered Order id's Added multiple times issue in recovered carts tab
– Fix: Incorrect number of Recovered Cart count displayed in Reports tab
Version 10.8.1 on 18 November 2015
– Fix: Fixed the 'NULL' display problem
Version 10.8 on 15 November 2015
– New: Coupon info in Cart list to know whether Coupon was used
– Fix: Hidden unwanted message displaying
Version 10.7 on 14 November 2015
– Fix: Cart Link problem in Email
Version 10.6 on 13 November 2015
– Fix: Cartlink color selection for hyperlink
Version 10.5 on 12 November 2015
– Fix: Cart List Recovery for Previous and Cancelled Order
Version 10.4 on 07 November 2015
– Fix: Default value set properly for carts that should be changed to recovered
Version 10.3 on 04 November 2015
– New: Duplicate Email template option
– New: Date Range sorting with summary information
– New: Code improved
– New: When the order is cancelled, automatically entered as abandoned in cart list
Version 10.2 on 31 October 2015
– Fix: Unsubscribe link problem
Version 10.1 on 28 October 2015
– New: Shortcode {rac.unsubscribe} for unsubscribe link in Email Message Field
– New: New option "clear the cart content when cart link is clicked"
Version 10.0 on 23 October 2015
– New: Exclude Cart capture by user name, user id & email
– New: Added the Clear Reports button on "Reports" tab to clear the reports.
– New: Show/hide the subtotal,tax info & total rows in Email
– New: Added the date-filter option for cart list table
Version 9.8 on 20 October 2015
– Fix: Translation added for subtotal , tax & total in email template
Version 9.7 on 18 October 2015
– Fix: Fatal error in email when the cart content includes tax
Version 9.6 on 16 October 2015
– Version 9.6
– Fix: Entry registered while place the order using PayPal express checkout payment gateway from guest role
Version 9.5 on 13 October 2015
– Fix: Debug warning fixed for guest cart link
Version 9.4 on 11 October 2015
– New: In Check Previous Order option, added an image to display the progress and when completed display the
number of orders imported to cart list
– New: Display the Tax Information for the products in Abandoned Cart Email
– Fix: Debug warning messages in Abandoned Cart Emails and Cart List Table
– Fix: JSON error when order is placed
Version 9.3 on 08 October 2015
– Fix: Bug fix in Coupon Creation
Version 9.2 on 26 September 2015
– Tweak: Ajax Request Chunked for Checking Previous Orders
– Fix: Bug Fix in Repeating Mail for Previous Orders List
– Fix: Manual Mail for Guest Cart Repeating Mail Problem Fixed
Version 9.1 on 22 September 2015
– New: Added Quantity and Corresponding Price from Cart in Email Product Info Shortcode
– New: Code Cleaned for Product Info Shortcode
– New: Cart Total in Cart List Table
Version 9.0.5 on 11 September 2015
– New: Added Option of Choose which Cart Status to Recovered
– Fix: Removing Cart List when Place Order
Version 9.0.4 on 09 September 2015
– Fix: Unsubscribe link not working
Version 9.0.3 on 06 September 2015
– New: Added Option to Load RAC Scripts/Styles in Header or Footer in Troubleshoot Section for performance
Version 9.0.2 on 05 September 2015
– Fix: Warning Message Fixed in Recovered Orders Tab
Version 9.0.1 on 03 September 2015
– Tweak: Improved Sorting Mail Log Data
Version 9.0 on 01 September 2015
– Fix: Duplicating Email Sending Problem Fixed
Version 8.9 on 25 August 2015
– New: Added List of Recovered Orders as New Tab and SUM of Sales Value
– Fix: Cart Link Updation
– Fix: Sending Email when Recovered Order ID is Recorded
Version 8.8 on 08 August 2015
– New: Added Individual use only for Coupon to avoid conjunction with other coupons
– Fix: Error for Previewing Email Template
Version 8.7 on 06 August 2015
– Fix: Support for WooCommerce Backward Compatibility
Version 8.6 on 04 August 2015
– New: Edit the Email address for guest in the Cart List
– New: Added Page Select and Deslect in Cart List
– New: Status option added to select on which status the cart becomes Recovered
– New : Support tab added
Version 8.5 on 03 August 2015
– Tweak: Code to Sort Cart List and Email Template More Accurate
Version 8.4 on 02 August 2015
– Fix: Error Message for WooCommerce Dependency
Version 8.3 on 28 July 2015
– Fix: New Email template not saving problem
– New: Created WPML config file
– Tweak: Changed the caption for header image logo in HTML mail caption
– Tweak: Display the header image logo selection option when HTML mail template option is selected
Version 8.2 on 22 July 2015
– New: Preview for Email Template
– New: Logo Upload for Email Template
– New: WooCommerce Template / HTML Template in each Email Template
– Tweak: Cron Schedule based on UTC and local time
Version 8.1.4 on 02 July 2015
– Tweak: Supported WPML Compatibility for Unsubscribe Link in Email
Version 8.1.3 on 02 July 2015
– Tweak: Compatible with latest WPML Plugin
Version 8.1.2 on 28 June 2015
– New: Added Option to Customize Unsubscription Settings in My Account Page
– Fix: Sending WPML Mail from Manual Mail Option
Version 8.1.1 on 26 June 2015
– Updated Documentation
Version 8.1 on 15 June 2015
– New: Include/Exclude Products in Coupon
– New: Include/Exclude Categories in Coupon
Version 8.0.2 on 12 June 2015
– Tweak: Optimized the Code to Get Users
Version 8.0.1 on 09 June 2015
– Fix: Code Tweaked to get TinyMCE Editor Content
Version 8.0 on 08 June 2015
– New: Unsubscribe Link in Email
– New: Product Info Shortcode Customization
– New: Troubleshoot Send Test Email as well as HTML Email
– New: Coupon Code Validation (One Coupon per User)
– New: Minimum Spend and Maximum Spend in Coupon
– New: Pre Text Customization Option in Coupon Code Generation
– New: Cart List Recovered Identification without clicking Cart Link
– New: {rac.firstname} and {rac.lastname} Shortcodes supported in Email Subject
– New: Trash Status added in Cart List Table of Recover Abandon Cart
– New: Cart Link Customization Option like href Link/Only URL/Button with Color Customization
– Fix: Bug Fix in setting Local Header in Email
Version 7.2.1 on 06 May 2015
– Fix: Sending Mail to Guest and Test Mail
Version 7.2 on 27 April 2015
– Fix: XSS Security Problem Fixed
Version 7.1.3 on 14 April 2015
– Fix: Optimized getting users for exclude option
Version 7.1.2 on 10 April 2015
– Fix: Parse Error
Version 7.1.1 on 09 April 2015
– Fix: Debug Warnings
Version 7.1 on 29 March 2015
– New: Exclude Users from receiving mail by User role, User name, Email id
Version 7.0.3 on 07 March 2015
– Fix: Product Info Table Structure in Email
Version 7.0.2 on 26 February 2015
– New: Option to Customize Product Info Shortcode Column Name in Email Template
Version 7.0.1 on 20 February 2015
– Fix: Compatibility with WooCommerce Version 2.0.20
Version 7.0 on 18 February 2015
– New: Made Recover Abandon Cart Compatible with WooCommerce 2.3.x
Version 6.9.2 on 08 February 2015
– Fix: Cart Link Clicked Count Problem and Recovering for Guest
– Fix: Coupon Code Creation if the prefix of name before @ is less than 4 characters
Version 6.9.1 on 10 January 2015
– Fix: Last Character Missing Problem in Mail
Version 6.9 on 07 January 2015
– New: Shortcode for Displaying Line Items and Totals in Mail
Version 6.8 on 01 January 2015
– New: WPML Compatibility for Product Info, Cart Link etc in Mail
Version 6.7 on 19 December 2014
– Fix: Check DB version to avoid DB already exists error
Version 6.6 on 06 December 2014
– Fix: Guest Abandoned Cart Recovery Mail
Version 6.5 on 02 December 2014
– New: WooCommerce Backward Compatibility
– New: Default Option for Removing Cart List from Same Users
– Fix: Getting Template ID in Manual Mail
Version 6.4 on 26 November 2014
– New: WPML, WPML String Translation and WooCommerce Multilingual Compatibility for Mails
– New: Phone Number, First Name and Last Name of Buyer in Cart List
– Fix: Echo HTML Tags
Version 6.3 on 22 November 2014
– Enabled Default Option for Sending Mail to Members/Guest
– Bug Fix on Variation Product Information
Version 6.2 on 16 November 2014
– Improvements in Removing Carts from list based on same Email Id
Version 6.1 on 09 November 2014
– Bug Fix on Getting Product Info in Cron Job Email
– Bug Fix for Footable Conflict when Sorting has been made
– Removed Duplicate Shortcode Message in New Email Template
– Fixed Debug Warning Message when visiting from Cart Link
Version 6.0 on 07 November 2014
– Backward Compatibility for WooCommerce Lower Version
Version 5.9 on 06 November 2014
– Changed Option to get price for Product with Line Total
– Bug Fix in Sending Product Info Details for Guest
– Bug Fix in Checking Condition whether it is Guest or Member
Version 5.8 on 03 November 2014
– Bug Fixed in Sending Manual Email from Cart List
Version 5.7 on 16 October 2014
– Bug Fix in Create, Edit Template Problem and Send Custom Email Problem due to jQuery Error on Tinymce
– Added Alternate Mail Sending from Main Domain Option in Troubleshoot Settings
Version 5.6 on 14 October 2014
– Bug Fix in Coupon Code Deletion on Expiry
Version 5.5 on 12 October 2014
– WooCommerce Price Format corrected
– Product Info Table Border in Mail removed
– Localization Added for Product Info Shortcode
Version 5.4 on 08 October 2014
– Bug Fix for Duplicating Options in Admin Settings
Version 5.3 on 03 October 2014
– Bug Fix in Product Info Shortcode in Mail
– Added Shortcode Information in Email Template section as well
Version 5.2 on 01 October 2014
– Send Email to Members and Guests as Option
– Product Name, Image, Price etc can be shown in Email using Shortcode
– Remove New and Abandon Carts from Same Users
– RECOVERED status has been added
Version 5.1 on 17 September 2014
– Bug Fix in Sorting using Numbers in Cart List
Version 5.0 on 08 September 2014
– Bug fix in Template Status Select Box of Mail Template
Version 4.9 on 26 August 2014
– Order Statuses such as "on hold", "pending" etc for removing Succeeded Carts from Abandoned Cart List
Version 4.8 on 23 August 2014
– Order Status as option for removing Succeeded Carts from Abandoned Cart List
Version 4.7 on 13 August 2014
– Added settings save and mail sent notification message on ajax calls
– Added Cart Link Anchor Text option in E-Mail Template
– Added Test Mail option in Troubleshoot
– Removed Template Choose option from plugin or theme
Version 4.6 on 01 August 2014
– Backslash bug fix in manual mail
Version 4.5 on 22 July 2014
– Plain HTML RTF Mail Option
Version 4.4 on 14 July 2014
– Changed default setting for "Use Email Template from" option
Version 4.3 on 10 July 2014
– Option to Delete Used/Expired Coupon (which were generated by the Plugin)
Version 4.2 on 10 July 2014
– Backward Compatibility Added for Lower Version of WooCommerce
Version 4.1 on 07 July 2014
– Automatic Generation of Coupon Code to include in Mail
– Plugin defaults value setup function modified
Version 4.0 on 03 July 2014
– Activate/Deactivate Email Template
– Manual Mailing Option
– Cron Job time shown in Troubleshoot Tab
– Reports Tab
– Shortcodes Tab
– Email Admin Option when Cart is Recovered
– Redirect to Email List when new template is created
Version 3.2 on 25 June 2014
– Email Settings added to use WooCommerce Email Template
– Email Sender options added
– Save Email Template bug fix for backslash
– Shortcode Feature added in the Email Message Template
Version 3.1 on 23 June 2014
– Troubleshoot Settings(wp_mail()/mail()) added
Version 3.0 on 18 June 2014
– Checking Previous Orders for Abandoned Carts
– Mail Sending Start/Stop option for Abandoned Carts
– Mail log Feature added
Version 2.9 on 16 June 2014
– Bug fixed in From Name in Email
Version 2.8 on 14 June 2014
– Email cart link bug fixed
Version 2.7 on 14 June 2014
– Reset Button for resetting to default Abandoned time and Cron job time
Version 2.6 on 3 June 2014
– Date, Time, Email ID are displayed in Cart List Table
– Cart Link added with Anchor tag in default Email Template
Version 2.5 on 28 May 2014
– Improvement Made in Guest Abandoned Cart
Version 2.4 on 27 May 2014
– Bug Fix for Guest Abandoned Cart
– Bug Fix in Cron Time
– Settings link added
Version 2.3 on 24 May 2014
– Improvements made for Guest Abandoned Cart
– Changes made in deciding Abandoned Cart
Version 2.2 on 23 May 2014
– Bug Fix in Removing Completed Cart
Version 2.1 on 20 May 2014
– Supported for WooCommerce 2.0.x and 1.6.x
Version 2.0 on 19 May 2014
– For Guest it works as soon as email ID is entered
– Delete this row option added for abandoned cart list
– Delete All and Delete selected options added for abandoned cart list
– Select All and Deselect All option added
Version 1.4 on 18 May 2014
– Bug fix in variable product for guest
Version 1.3 on 17 May 2014
– Improvement is made in mail sending function
– Email Status shown in the table
Version 1.2 on 16 May 2014
– ShortCode Support for First Name and Last Name of Buyer
Version 1.1 on 13 May 2014
– Works for Guests as well
Version 1.0 on 9 May 2014
– Initial ReleaseVersion 16.6 on 02 June 2017
New: Compatible with WooCommerce Product Add-ons
Tweak: Improved compatibility with Aleia Currency Switcher
Version 16.5 on 19 May 2017
New: Option to set image in place of {rac.cartlink} shortcode
New: Send Email display option
Tweak: Improvement to set the cron
Fix: Error in Cart details table
Version 16.4 on 10 May 2017
New: Option added to prevent RAC emails being sent to user for the cart list if an already purchased product is one of the product in the captured list
Tweak: Code Optimized
Tweak: PO file updated
Fix: Empty cart list tab page
Version 16.3 on 03 May 2017
Tweak: Improvements in the settings labels
Tweak: Updated PO Files
Fix: Empty Email problem when WPML is used
Version 16.2 on 25 April 2017
New: Multi Currency support for WPML Multi Currency, Aelia Currency Switcher, WooCommerce Currency Switcher
New: Include/Exclude options added for Cart List capturing and Email sending
New: Warning Message added for improving usability
Tweak: Order Total can be set as 0 in Segmentation filter
Tweak: PO files Updated
Fix: Next Cron Job Time display issue in Troubleshoot
Version 16.1 on 19 April 2017
New: New cart capture based on selected status for captured cart
New: Bulk Update option to Stop/Start mailing
Tweak: Enqueue script improvements
Fix: Template not updated while sending manual emails
Version 16.0 on 11 April 2017
New: WooCommerce 3.0 compatibility
Fix: Fatal Error in Cart List tab
Fix: Undefined Offset Problem
Fix: Test Email sending issue
Fix: Restriction not applied properly when Don't capture any New Cart option is selected
Fix: Script error when Clear Reports button is clicked
Version 15.9 on 05 April 2017
New: Added shortcode to display Product Name in Email Subject
New: Bulk Update option for start emailing and stop emailing
Tweak: PHP 7.1 Compatibility
Tweak: Validation for creating tables
Tweak: Updated Po Files
Version 15.8 on 14 March 2017
New: Option to restrict sending of emails based on email id providers
New: Added Product and Category filter in segmentation
New: Filter for CSV Export
Tweak: Validation for empty values in Plugin Settings
Tweak: Updated po and mo files
Fix: Undefined offset problem
Version 15.7 on 02 March 2017
New: Code Improvements and Performance Optimization
Version 15.6 on 16 February 2017
Tweak: Code Improvements
Version 15.5 on 07 February 2017
New: Option to give Free Shipping for Coupon
Tweak: Code Improvements
Version 15.4 on 02 February 2017
New: Option to Restrict Entry in Cart List if the User already has an active Abandoned Cart
New: Added Filters for Export CSV File
Tweak: Updated po and mo files
Version 15.3 on 17 January 2017
New: Subscribed and Unsubscribed sections added in Cart List tab
New: Confirmation dialogue box added when Mark as Recover button is clicked
Tweak: Cart Total is updated after Shipping and tax Calculation for Guest
Fix: Fatal Error when WooCommerce is not Active
Version 15.2 on 08 January 2017
New: Display Product SKU in Cart List and Product Info Email
New: Option to Update Cart List Status In Troubleshoot tab
Tweak: Code Improved to avoid fatal error
Tweak: Saving additional time details during cart link click
Fix: Recovered Order Id display problem when Order is Recovered
Version 15.1 on 19 December 2016
Fix: Default value setting problem
Fix: Unsubscription message display problem
Fix: Error log problem
Fix: Update the cart in the list when the cart is updated by the user
Version 15.0 on 05 December 2016
New: Graphical Reports
New: Email Sender option for WooCommerce Template Type
New: Troubleshoot option added for including MIME Version 1.0 and Reply-To parameters
New: Option to send mails based on previous mail sent Time
New: Added po & mo files for Italian language
Tweak: Admin notification based on Order Status of the Recovered Order
Tweak: Updated po files
Tweak: Updated Translation strings
Tweak: Code Updated
Fix: Page break issue when products or users are deleted
Fix: Order considered as Recovered if the Order was cancelled in the Payment Page
Fix: Recovered Orders count updated when Cart is Recovered without clicking the Cart Link in Email
Fix: Display issue in Shortcodes tab
Fix: Empty cart issue when member clicks link as guest
Fix: Clear Cart Content option not working for Member
Version 14.6 on 10 November 2016
New: Pagination for Recovered Orders tab
New: Sorting for Mail Logs and Recovered Orders based on Oldest/Newest display first option
Tweak: Code improvements
Version 14.5.1 on 07 November 2016
Fix: Undefined function problem
Version 14.5 on 02 November 2016
New: Added Segmentation for Email Templates
Tweak: PO files Updated
Version 14.4 on 25 October 2016
New: Option to set which cron will be used
Tweak: Improvement in script loading
Version 14.3 on 18 October 2016
New: Added Warning Message when cron is disabled
Version 14.2 on 14 October 2016
Fix: Display issue in user name search field of Custom Restrict Settings when using WooCommerce Version 2.2.11 and below
Version 14.1 on 04 October 2016
New: Product Info Alignment section to customize position of columns in Product Info Table
New: Ascending/Descending Order to display Cart List table
New: Separate options to Show/Hide Shipping, Tax in Abandoned Cart Emails
Tweak: Product Info Table alignment when columns are hidden
Tweak: Updated PO Files
Fix: Error occurred in Mail Log when the template used for sending the email is deleted
Fix: Shipping Cost displayed without Tax in Emails
Fix: Restore Cart from Cart Link when Cart is already Recovered
Fix: Blank space added for Image in Emails when using HTML Template
Version 14.0 on 23 September 2016
New: Shipping Cost in Abandon Cart Email
New: Option to change Cart to Recovered Status manually
Tweak: Compatibility with WooCommerce Version 2.3 and below for displaying price in emails
Tweak: Dummy shortcode value in subject of test email templates
Tweak: Cart Total display in Cart List Including tax and Shipping Cost
Tweak: Display Dummy Tax and Shipping cost in Test Email and template Preview
Tweak: Updated po and mo files
Version 13.9 on 16 September 2016
New: URL redirection to specific language site based on Cart Abandoning language
Tweak: Optimized code to reduce Ajax loading time for Guest Cart capturing
Fix: Problems when using the plugin with WooCommerce 2.4.x and below
Fix: For Guests, Cart Link in Abandon Cart Email redirects to Empty Cart when using multiple email templates
Version 13.8 on 01 September 2016
New: Option to "Replace" or "Append" WooCommerce Footer Text with Unsubscription Link Text
Tweak: Dummy Content for Shortcode in Email Template Preview and Test Emails
Fix: Variation name displayed incorrectly when Global Variations are used for the Product
Fix: Empty Cart Item created for Guests when custom checkout form is used
Fix: Problem in capturing Guest Firstname and Lastname
Version 13.7 on 19 August 2016
New: Option to Show/Hide Variation name of Variable Products in Abandoned Cart Emails
Tweak: Updated Complete Translation po files for French Language
Fix: Variation name duplicated in Abandon Cart Mails if the Cart Item is a Variable Subscription product
Fix: IP Capturing Issue when using Cloud Proxy
Version 13.6 on 05 August 2016
Tweak: Capturing Guest Cart as External JS File
Fix: Conflict with WooCommerce Color Picker
Version 13.5 on 24 July 2016
New: Option to Customize Date and Time format
Fix: Proxy Server Cart Capture Issue for Guest
Tweak: Fetch DB Results Order by IDs
Version 13.4 on 18 July 2016
– Fix: Duplicate emails received when more than one mail template triggered at the same time
– New: Updated documentation
Version 13.3 on 20 June 2016
– New: Shortcode for displaying Date and Time of captured Cart in Email Template
– Tweak: Changed Variable Product Name Displaying Style In Product Info Table
Version 13.2 on 13 June 2016
– Fix: Cart Link not displaying all variations for Guest
– New: Documentation Updated
Version 13.1 on 03 June 2016
– New: Option to Display Product Price Including Tax in Abandoned Cart Emails
Version 13.0 on 25 May 2016
– Fix: Email missing the last character sometimes
– Fix: Code optimized to avoid the same coupon is regenerated without deleting the old one in some cases
Version 12.9 on 03 May 2016
– New: Export Cart List as CSV
– New: Documentation updated
Version 12.8 on 01 May 2016
– Fix: Email sending problem with WooCommerce version 2.3.x and lower versions
Version 12.7 on 11 April 2016
– Fix: Problem in sending email using third party email services when bcc field is empty
Version 12.6 on 09 April 2016
– Fix: Test Mail not sent for domains which have more than 4 characters
Version 12.5 on 01 April 2016
– New: Improved the default message of Abandon Cart Email
Version 12.4 on 24 March 2016
– New: Added Option to Recover the Cart list for Manual Orders
– New: Document Updated
– New: Chunk count can be customized
– Tweak: Check order status during "check previous orders"
– Fix: Decoded the labels when site language is other than English
– Fix: Error message displayed in Abandoned Cart Emails
Version 12.3 on 08 March 2016
– Tweak: For Variable Products, Product image displayed instead of Variation image in Emails
Version 12.2 on 12 February 2016
– New: Added customization option for new entry in cart list when redirect to cart page while cancelling the order
– Fix: Script loading before loading the page for guest at checkout
– Fix: Image appearing twice in recover abandon cart emails
Version 12.1 on 08 February 2016
– New: Enhanced unsubscription option for emails
– New: Added send test email option for each email template
– New: Cart details text is changed to link to show the product info in cart list table
Version 12.0.1 on 03 February 2016
– New: Added Customization of border for table ({rac.Productinfo} shortcode)
Version 12.0 on 28 January 2016
– Tweak: Compatibility with WooCommerce 2.5.x
Version 11.9 on 26 January 2016
– New: Option to not capture carts which are in Cancelled Order Status
Version 11.8 on 20 January 2016
– Fix: Cart List problem because of Persistent Cart
Version 11.7 on 17 January 2016
– Fix: Recovering Cart List for Corresponding Order
– Tweak: Captions and Tool Tips tweaked
Version 11.6 on 14 January 2016
– Fix : Unsubscribe link Problem in emails
Version 11.5 on 01 January 2016
– New: Added BCC option for abandon cart emails in email templates
– New: Number of carts recovered made as hyperlink in Reports Tab to see the recovered carts
– New: Added Date filter in Recovered Orders tab
– New: Added option to redirect cart link in email to cart/checkout page
– Fix: Duplicate calling cron job problem
Version 11.4 on 23 December 2015
– Fix : wp_safe_redirect() is missing when cart link is clicked in email
– Fix: product_ids is not stored during coupon creation
– Fix "Cart Recovered" notification sending option "Local" for admin is not working
– Fix: When user places the order without abandoned it, order id is recorded in recovered orders tab
– Fix: When guest places the order, cart row is deleted instead of update the status of cart to "Recovered"
– Fix: Show/Hide problem on "Cart List become Recovered when Order Status" select box and "Enable Email Notification for Admin when Cart is Recovered" check box
Version 11.3 on 15 December 2015
– Fix: Unsubscribe link issue for carts from old order & some guests
– Tweak: wp_safe_redirect() of cart is missing from old order when cart link is clicked in email
Version 11.2 on 13 December 2015
– Tweak: Customization of Sender Information available only for HTML plain text emails
Version 11.1 on 27 November 2015
– Fix: Error upon activating the Plugin
Version 11.0 on 25 November 2015
– New: Delete Abandon carts after x days
– New: Emails sent, Carts recovered columns added in email templates table
– Fix: Problem while save the email id of guest manually in cart list
– Fix: Cart link clicked count problem in reports tab
Version 10.9 on 22 November 2015
– Fix: Previous Abandoned Carts are not recovered when user manually places order
– Fix: Recovered Order id's Added multiple times issue in recovered carts tab
– Fix: Incorrect number of Recovered Cart count displayed in Reports tab
Version 10.8.1 on 18 November 2015
– Fix: Fixed the 'NULL' display problem
Version 10.8 on 15 November 2015
– New: Coupon info in Cart list to know whether Coupon was used
– Fix: Hidden unwanted message displaying
Version 10.7 on 14 November 2015
– Fix: Cart Link problem in Email
Version 10.6 on 13 November 2015
– Fix: Cartlink color selection for hyperlink
Version 10.5 on 12 November 2015
– Fix: Cart List Recovery for Previous and Cancelled Order
Version 10.4 on 07 November 2015
– Fix: Default value set properly for carts that should be changed to recovered
Version 10.3 on 04 November 2015
– New: Duplicate Email template option
– New: Date Range sorting with summary information
– New: Code improved
– New: When the order is cancelled, automatically entered as abandoned in cart list
Version 10.2 on 31 October 2015
– Fix: Unsubscribe link problem
Version 10.1 on 28 October 2015
– New: Shortcode {rac.unsubscribe} for unsubscribe link in Email Message Field
– New: New option "clear the cart content when cart link is clicked"
Version 10.0 on 23 October 2015
– New: Exclude Cart capture by user name, user id & email
– New: Added the Clear Reports button on "Reports" tab to clear the reports.
– New: Show/hide the subtotal,tax info & total rows in Email
– New: Added the date-filter option for cart list table
Version 9.8 on 20 October 2015
– Fix: Translation added for subtotal , tax & total in email template
Version 9.7 on 18 October 2015
– Fix: Fatal error in email when the cart content includes tax
Version 9.6 on 16 October 2015
– Version 9.6
– Fix: Entry registered while place the order using PayPal express checkout payment gateway from guest role
Version 9.5 on 13 October 2015
– Fix: Debug warning fixed for guest cart link
Version 9.4 on 11 October 2015
– New: In Check Previous Order option, added an image to display the progress and when completed display the
number of orders imported to cart list
– New: Display the Tax Information for the products in Abandoned Cart Email
– Fix: Debug warning messages in Abandoned Cart Emails and Cart List Table
– Fix: JSON error when order is placed
Version 9.3 on 08 October 2015
– Fix: Bug fix in Coupon Creation
Version 9.2 on 26 September 2015
– Tweak: Ajax Request Chunked for Checking Previous Orders
– Fix: Bug Fix in Repeating Mail for Previous Orders List
– Fix: Manual Mail for Guest Cart Repeating Mail Problem Fixed
Version 9.1 on 22 September 2015
– New: Added Quantity and Corresponding Price from Cart in Email Product Info Shortcode
– New: Code Cleaned for Product Info Shortcode
– New: Cart Total in Cart List Table
Version 9.0.5 on 11 September 2015
– New: Added Option of Choose which Cart Status to Recovered
– Fix: Removing Cart List when Place Order
Version 9.0.4 on 09 September 2015
– Fix: Unsubscribe link not working
Version 9.0.3 on 06 September 2015
– New: Added Option to Load RAC Scripts/Styles in Header or Footer in Troubleshoot Section for performance
Version 9.0.2 on 05 September 2015
– Fix: Warning Message Fixed in Recovered Orders Tab
Version 9.0.1 on 03 September 2015
– Tweak: Improved Sorting Mail Log Data
Version 9.0 on 01 September 2015
– Fix: Duplicating Email Sending Problem Fixed
Version 8.9 on 25 August 2015
– New: Added List of Recovered Orders as New Tab and SUM of Sales Value
– Fix: Cart Link Updation
– Fix: Sending Email when Recovered Order ID is Recorded
Version 8.8 on 08 August 2015
– New: Added Individual use only for Coupon to avoid conjunction with other coupons
– Fix: Error for Previewing Email Template
Version 8.7 on 06 August 2015
– Fix: Support for WooCommerce Backward Compatibility
Version 8.6 on 04 August 2015
– New: Edit the Email address for guest in the Cart List
– New: Added Page Select and Deslect in Cart List
– New: Status option added to select on which status the cart becomes Recovered
– New : Support tab added
Version 8.5 on 03 August 2015
– Tweak: Code to Sort Cart List and Email Template More Accurate
Version 8.4 on 02 August 2015
– Fix: Error Message for WooCommerce Dependency
Version 8.3 on 28 July 2015
– Fix: New Email template not saving problem
– New: Created WPML config file
– Tweak: Changed the caption for header image logo in HTML mail caption
– Tweak: Display the header image logo selection option when HTML mail template option is selected
Version 8.2 on 22 July 2015
– New: Preview for Email Template
– New: Logo Upload for Email Template
– New: WooCommerce Template / HTML Template in each Email Template
– Tweak: Cron Schedule based on UTC and local time
Version 8.1.4 on 02 July 2015
– Tweak: Supported WPML Compatibility for Unsubscribe Link in Email
Version 8.1.3 on 02 July 2015
– Tweak: Compatible with latest WPML Plugin
Version 8.1.2 on 28 June 2015
– New: Added Option to Customize Unsubscription Settings in My Account Page
– Fix: Sending WPML Mail from Manual Mail Option
Version 8.1.1 on 26 June 2015
– Updated Documentation
Version 8.1 on 15 June 2015
– New: Include/Exclude Products in Coupon
– New: Include/Exclude Categories in Coupon
Version 8.0.2 on 12 June 2015
– Tweak: Optimized the Code to Get Users
Version 8.0.1 on 09 June 2015
– Fix: Code Tweaked to get TinyMCE Editor Content
Version 8.0 on 08 June 2015
– New: Unsubscribe Link in Email
– New: Product Info Shortcode Customization
– New: Troubleshoot Send Test Email as well as HTML Email
– New: Coupon Code Validation (One Coupon per User)
– New: Minimum Spend and Maximum Spend in Coupon
– New: Pre Text Customization Option in Coupon Code Generation
– New: Cart List Recovered Identification without clicking Cart Link
– New: {rac.firstname} and {rac.lastname} Shortcodes supported in Email Subject
– New: Trash Status added in Cart List Table of Recover Abandon Cart
– New: Cart Link Customization Option like href Link/Only URL/Button with Color Customization
– Fix: Bug Fix in setting Local Header in Email
Version 7.2.1 on 06 May 2015
– Fix: Sending Mail to Guest and Test Mail
Version 7.2 on 27 April 2015
– Fix: XSS Security Problem Fixed
Version 7.1.3 on 14 April 2015
– Fix: Optimized getting users for exclude option
Version 7.1.2 on 10 April 2015
– Fix: Parse Error
Version 7.1.1 on 09 April 2015
– Fix: Debug Warnings
Version 7.1 on 29 March 2015
– New: Exclude Users from receiving mail by User role, User name, Email id
Version 7.0.3 on 07 March 2015
– Fix: Product Info Table Structure in Email
Version 7.0.2 on 26 February 2015
– New: Option to Customize Product Info Shortcode Column Name in Email Template
Version 7.0.1 on 20 February 2015
– Fix: Compatibility with WooCommerce Version 2.0.20
Version 7.0 on 18 February 2015
– New: Made Recover Abandon Cart Compatible with WooCommerce 2.3.x
Version 6.9.2 on 08 February 2015
– Fix: Cart Link Clicked Count Problem and Recovering for Guest
– Fix: Coupon Code Creation if the prefix of name before @ is less than 4 characters
Version 6.9.1 on 10 January 2015
– Fix: Last Character Missing Problem in Mail
Version 6.9 on 07 January 2015
– New: Shortcode for Displaying Line Items and Totals in Mail
Version 6.8 on 01 January 2015
– New: WPML Compatibility for Product Info, Cart Link etc in Mail
Version 6.7 on 19 December 2014
– Fix: Check DB version to avoid DB already exists error
Version 6.6 on 06 December 2014
– Fix: Guest Abandoned Cart Recovery Mail
Version 6.5 on 02 December 2014
– New: WooCommerce Backward Compatibility
– New: Default Option for Removing Cart List from Same Users
– Fix: Getting Template ID in Manual Mail
Version 6.4 on 26 November 2014
– New: WPML, WPML String Translation and WooCommerce Multilingual Compatibility for Mails
– New: Phone Number, First Name and Last Name of Buyer in Cart List
– Fix: Echo HTML Tags
Version 6.3 on 22 November 2014
– Enabled Default Option for Sending Mail to Members/Guest
– Bug Fix on Variation Product Information
Version 6.2 on 16 November 2014
– Improvements in Removing Carts from list based on same Email Id
Version 6.1 on 09 November 2014
– Bug Fix on Getting Product Info in Cron Job Email
– Bug Fix for Footable Conflict when Sorting has been made
– Removed Duplicate Shortcode Message in New Email Template
– Fixed Debug Warning Message when visiting from Cart Link
Version 6.0 on 07 November 2014
– Backward Compatibility for WooCommerce Lower Version
Version 5.9 on 06 November 2014
– Changed Option to get price for Product with Line Total
– Bug Fix in Sending Product Info Details for Guest
– Bug Fix in Checking Condition whether it is Guest or Member
Version 5.8 on 03 November 2014
– Bug Fixed in Sending Manual Email from Cart List
Version 5.7 on 16 October 2014
– Bug Fix in Create, Edit Template Problem and Send Custom Email Problem due to jQuery Error on Tinymce
– Added Alternate Mail Sending from Main Domain Option in Troubleshoot Settings
Version 5.6 on 14 October 2014
– Bug Fix in Coupon Code Deletion on Expiry
Version 5.5 on 12 October 2014
– WooCommerce Price Format corrected
– Product Info Table Border in Mail removed
– Localization Added for Product Info Shortcode
Version 5.4 on 08 October 2014
– Bug Fix for Duplicating Options in Admin Settings
Version 5.3 on 03 October 2014
– Bug Fix in Product Info Shortcode in Mail
– Added Shortcode Information in Email Template section as well
Version 5.2 on 01 October 2014
– Send Email to Members and Guests as Option
– Product Name, Image, Price etc can be shown in Email using Shortcode
– Remove New and Abandon Carts from Same Users
– RECOVERED status has been added
Version 5.1 on 17 September 2014
– Bug Fix in Sorting using Numbers in Cart List
Version 5.0 on 08 September 2014
– Bug fix in Template Status Select Box of Mail Template
Version 4.9 on 26 August 2014
– Order Statuses such as "on hold", "pending" etc for removing Succeeded Carts from Abandoned Cart List
Version 4.8 on 23 August 2014
– Order Status as option for removing Succeeded Carts from Abandoned Cart List
Version 4.7 on 13 August 2014
– Added settings save and mail sent notification message on ajax calls
– Added Cart Link Anchor Text option in E-Mail Template
– Added Test Mail option in Troubleshoot
– Removed Template Choose option from plugin or theme
Version 4.6 on 01 August 2014
– Backslash bug fix in manual mail
Version 4.5 on 22 July 2014
– Plain HTML RTF Mail Option
Version 4.4 on 14 July 2014
– Changed default setting for "Use Email Template from" option
Version 4.3 on 10 July 2014
– Option to Delete Used/Expired Coupon (which were generated by the Plugin)
Version 4.2 on 10 July 2014
– Backward Compatibility Added for Lower Version of WooCommerce
Version 4.1 on 07 July 2014
– Automatic Generation of Coupon Code to include in Mail
– Plugin defaults value setup function modified
Version 4.0 on 03 July 2014
– Activate/Deactivate Email Template
– Manual Mailing Option
– Cron Job time shown in Troubleshoot Tab
– Reports Tab
– Shortcodes Tab
– Email Admin Option when Cart is Recovered
– Redirect to Email List when new template is created
Version 3.2 on 25 June 2014
– Email Settings added to use WooCommerce Email Template
– Email Sender options added
– Save Email Template bug fix for backslash
– Shortcode Feature added in the Email Message Template
Version 3.1 on 23 June 2014
– Troubleshoot Settings(wp_mail()/mail()) added
Version 3.0 on 18 June 2014
– Checking Previous Orders for Abandoned Carts
– Mail Sending Start/Stop option for Abandoned Carts
– Mail log Feature added
Version 2.9 on 16 June 2014
– Bug fixed in From Name in Email
Version 2.8 on 14 June 2014
– Email cart link bug fixed
Version 2.7 on 14 June 2014
– Reset Button for resetting to default Abandoned time and Cron job time
Version 2.6 on 3 June 2014
– Date, Time, Email ID are displayed in Cart List Table
– Cart Link added with Anchor tag in default Email Template
Version 2.5 on 28 May 2014
– Improvement Made in Guest Abandoned Cart
Version 2.4 on 27 May 2014
– Bug Fix for Guest Abandoned Cart
– Bug Fix in Cron Time
– Settings link added
Version 2.3 on 24 May 2014
– Improvements made for Guest Abandoned Cart
– Changes made in deciding Abandoned Cart
Version 2.2 on 23 May 2014
– Bug Fix in Removing Completed Cart
Version 2.1 on 20 May 2014
– Supported for WooCommerce 2.0.x and 1.6.x
Version 2.0 on 19 May 2014
– For Guest it works as soon as email ID is entered
– Delete this row option added for abandoned cart list
– Delete All and Delete selected options added for abandoned cart list
– Select All and Deselect All option added
Version 1.4 on 18 May 2014
– Bug fix in variable product for guest
Version 1.3 on 17 May 2014
– Improvement is made in mail sending function
– Email Status shown in the table
Version 1.2 on 16 May 2014
– ShortCode Support for First Name and Last Name of Buyer
Version 1.1 on 13 May 2014
– Works for Guests as well
Version 1.0 on 9 May 2014
– Initial Release